The Cactus Hunters: Desire and Extinction in the Illicit Succulent Trade (Paperback)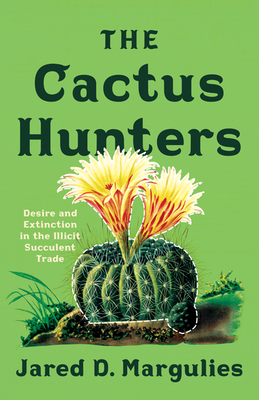 $24.95

Usually Ships in 1-5 Days
Description
---
An exploration of the explosive illegal trade in succulents and the passion that drives it
Cacti and succulents are phenomenally popular worldwide among plant enthusiasts, despite being among the world's most threatened species. The fervor driving the illegal trade in succulents might also be driving some species to extinction. Delving into the strange world of succulent collecting, The Cactus Hunters takes us to the heart of this conundrum: the mystery of how and why ardent lovers of these plants engage in their illicit trade. This is a world of alluring desires, where collectors and conservationists alike are animated by passions that at times exceed the limits of law. 
What inspires the desire for a plant? What kind of satisfaction does it promise? The answer, Jared D. Margulies suspects, might be traced through the roots and workings of the illegal succulent trade—an exploration that traverses the fields of botany and criminology, political ecology and human geography, and psychoanalysis. His globe-spanning inquiry leads Margulies from a spectacular series of succulent heists on a small island off the coast of Mexico to California law enforcement agents infiltrating a smuggling ring in South Korea, from scientists racing to discover new and rare species before poachers find them to a notorious Czech "cacto-explorer" who helped turn a landlocked European country into the epicenter of the illegal succulent trade. 
A heady blend of international intrigue, social theory, botanical lore, and ecological study, The Cactus Hunters offers complex insight into species extinction, conservation, and more-than-human care.
Retail e-book files for this title are screen-reader friendly with images accompanied by short alt text and/or extended descriptions.
About the Author
---
Jared D. Margulies is assistant professor of political ecology in the Department of Geography at the University of Alabama. His work has been published in leading academic journals across the fields of social, cultural, and political geography; political ecology; the conservation social sciences; and environmental humanities.
Praise For…
---
"The Cactus Hunters takes us into the fascinating world of succulent collecting. Jared D. Margulies skillfully traces the consequential ways in which people and cacti move one another, remaking possibilities for life, desire, wealth, extinction, and more in the process. This book offers a powerful example of the value of close attention to the entangled lives of plants and their people."—Thom van Dooren, author of A World in a Shell: Snail Stories for a Time of Extinctions
"Follow Jared D. Margulies and his infectious curiosity on a riveting global tour starring charismatic cacti and the people who desire them. In moving plants and the unconscious to center stage, The Cactus Hunters is a deeply felt and nuanced reckoning with desire as a structurally produced and world-making force—a unique and major contribution to political ecology."—Rosemary Collard, author of Animal Traffic: Lively Capital in the Global Exotic Pet Trade
 
"An esoteric deep dive into the illegal cactus trade."—Publishers Weekly