Digitize and Punish: Racial Criminalization in the Digital Age (Paperback)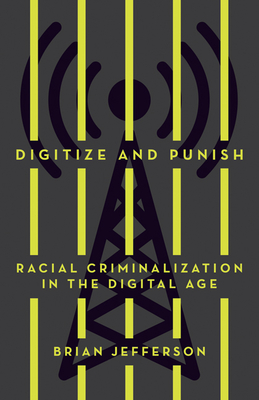 $24.95
Email or call for price
Description
---
Tracing the rise of digital computing in policing and punishment and its harmful impact on criminalized communities of color

 
The U.S. Bureau of Justice Statistics estimates that law enforcement agencies have access to more than 100 million names stored in criminal history databases. In some cities, 80 percent of the black male population is registered in these databases. Digitize and Punish explores the long history of digital computing and criminal justice, revealing how big tech, computer scientists, university researchers, and state actors have digitized carceral governance over the past forty years—with devastating impact on poor communities of color.
Providing a comprehensive study of the use of digital technology in American criminal justice, Brian Jefferson shows how the technology has expanded the wars on crime and drugs, enabling our current state of mass incarceration and further entrenching the nation's racialized policing and punishment. After examining how the criminal justice system conceptualized the benefits of computers to surveil criminalized populations, Jefferson focuses on New York City and Chicago to provide a grounded account of the deployment of digital computing in urban police departments.
By highlighting the intersection of policing and punishment with big data and web technology—resulting in the development of the criminal justice system's latest tool, crime data centers—Digitize and Punish makes clear the extent to which digital technologies have transformed and intensified the nature of carceral power.
About the Author
---
Brian Jefferson is associate professor of geography and geographic information science at the University of Illinois Urbana–Champaign. 
Praise For…
---
"Digitize and Punish is pathbreaking. It is an example of what interdisciplinary training and spatial thinking should be. Brian Jefferson's powerful analysis is laid out with surgical detail, illuminating the profound crisis 'digital prisons' have for all of us. It also accomplishes a rare scholarly feat: it's written with crisp and, at times, witty prose. Read. This. Book."—Rashad Shabazz, author of Spatializing Blackness: Architectures of Confinement and Black Masculinity in Chicago
"Digitize and Punish is both a meticulous history of 'policing and punishing machines' in New York City and Chicago and a moving call to abolish them everywhere and forever. Resisting the twin drumbeat narratives of disruption and placelessness, Brian Jefferson skillfully traces how the digital carceral state is rooted in and sustained by racial capitalism, with harrowing consequences for poor communities of color."—Virginia Eubanks, author of Automating Inequality: How High-Tech Tools Profile, Police, and Punish the Poor
"A haunting discourse."—CHOICE
"The book makes a highly relevant contribution to contemporary criminal justice literature."—Ethnic and Racial Studies 
"A sharp and specific look at how policing molded our digital and physical worlds."—Wired
"Brian Jefferson's Digitize and Punish lays out its argument with clarity and purposeful precision, and is remarkably timely in light of national conversations about policing."—Lateral Journal 
"Digitize and Punish should be required reading for anyone interested in GIScience, big data, and digital geographies, let alone those in the discipline calling out traditions of exploitation and "discovery" at the heart of our geographical endeavors."—The Canadian Geographer 
"The overwhelming value of this book is its meticulous historical research and rich description spanning primarily from the 1960s to 2020 that ultimately provides an excellent foundation for researchers analyzing developments in the area of digitized discrimination of negatively racialized populations within the United States criminal justice system in 2021 and onward."—Criminal Law and Criminal Justice Books