Seen and Unseen: Or, Monologues of a Homeless Snail (Paperback)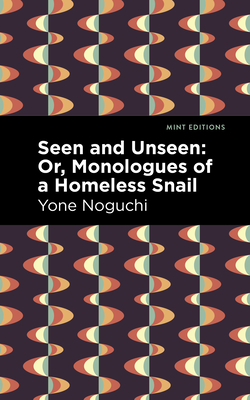 $5.99

Usually Ships in 1-5 Days
Description
---
Seen and Unseen: Or, Monologues of a Homeless Snail (1897) is a collection of poems by Yone Noguchi. Written only three years after his arrival in San Francisco, these poems capture the emotions of a young man far from home. Fluent in English and adept with the open, flowing style of free verse, Noguchi remains unique in his vision of earthly life.
Noguchi's poems are songs of light and shadow, in tune with animals, seasons, spirits, and complex emotions. His words are leaves, his thoughts are curtains knocking "with their shadowy hands" upon his door. His " p]oetry begins with the tireless songs of the cricket, on the lean gray haired hill, in sober-faced evening. / And the next page is Stillness." Alone in a foreign country, he finds solace in the strange music of nature, hope in the words he can make of it. He envisions himself asleep in the depths of a canyon, writing letters that will never arrive, longing for the crickets to sing. "The homeless snail climbing up the pillow, stares upon the silvered star-tears on my eyes ...] Oh, I am alone Who knows my to-night's feeling " He asks, the homeless snail asks, and his reader longs to answer.
With a beautifully designed cover and professionally typeset manuscript, this edition of Yone Noguchi's Seen and Unseen: Or, Monologues of a Homeless Snail is a classic of Japanese American literature reimagined for modern readers.