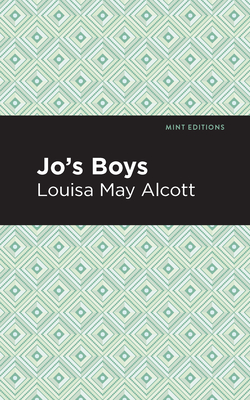 $16.99

Usually Ships in 1-5 Days
Description
---
Jo's Boys (1886) is a novel by American author Louis May Alcott. Written while Alcott was living in the historic Thoreau-Alcott House in Concord, Massachusetts, Jo's Boys picks up ten years after the events of Little Men, which followed the young sons of Jo Bhaer (n e March) and Professor Friedrich Bhaer at their newly established Plumfield Estate School. As with the rest of the series, Jo's Boys was inspired by the educational reforms theorized and practiced by her father.
Plumfield boys Tommy, Emil, Nat, Dan, Demi, Rob, and Ted have all grown up, taking with them into the world the lessons they learned at the Plumfield Estate School. Split into sections following the lives of each young man, Jo's Boys traces the impact on Jo and Friedrich Bhaer's experimental form of education across a number of diverse-and often difficult-situations. Each character navigates the realities of college, marriage, and work with varying degrees of success, often finding that what they can most rely on is a well-grounded sense of morality, as well as a strong and abundant understanding of themselves as individuals. Emil, Professor Friedrich Bhaer's nephew, becomes a sailor, gets promoted to second mate, and is faced with the challenge of rescuing his fellow shipmates after a wreck leaves them stranded. Tommy enters medical school but finds it difficult to dedicate himself to his work while weighing his complex affections for Nan and Dora, both of whom he could see himself marrying. The novel's most compelling character is Dan, who becomes a sheep-herder in Australia before returning to America, being arrested out West, and ultimately discovering his deeply entrenched need to dedicate his life to others. Although originally written for children, Louisa May Alcott's Jo's Boys, alongside the other novels in her "March Family Saga," has long been read and adored by children and adults alike.
With a beautifully designed cover and professionally typeset manuscript, this edition of Louisa May Alcott's Jo's Boys is a classic of American literature and children's fiction reimagined for modern readers.