Greed and Glory on Wall Street: The Fall of the House of Lehman (MP3 CD)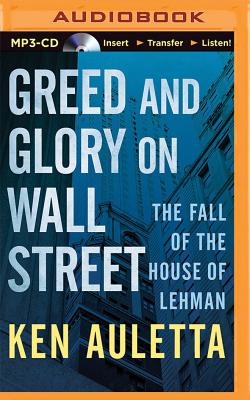 $9.99
Email or call for price
Description
---
The inside account of a financial meltdown that reshaped Wall Street.
In 1983, Lew Glucksman, then co-CEO of the heralded investment bank Lehman Brothers, demanded the resignation of chairman Pete Peterson, with whom he had long argued over how to manage the company. Shockingly, Peterson, who had taken charge a decade earlier and led Lehman from near collapse to record profits, agreed to step down.
In this meticulously researched volume, Ken Auletta details the turmoil, infighting, and power struggles that brought about Peterson's departure and the eventual sale of one of Wall Street's oldest and most prestigious firms. Set against the backdrop of the 1980s stock exchange, where hotshot young traders made and lost millions in a single afternoon, the story of Lehman's fall is a suspenseful battle of wills between bankers, traders, and executives motivated by greed, envy, and ego. Auletta, who conducted hundreds of hours of interviews and was granted access to private company records, has crafted a thorough, enduring, and engaging account of pivotal events that continued to influence this storied financial institution until its ultimate demise in 2008.