Guilt by Accusation: The Challenge of Proving Innocence in the Age of #MeToo (Hardcover)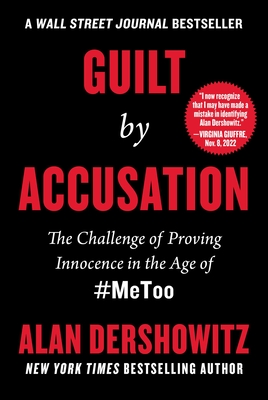 $28.99

Usually Ships in 1-5 Days
Description
---
A Wall Street Journal bestseller! Alan Dershowitz, one of America's most respected legal scholars and a New York Times bestselling author proves—with incontrovertible evidence—that he is entirely innocent of the sexual misconduct accusations against him, while suggesting a roadmap for how such allegations should be handled in a just society.  

"Maybe the question isn't what happened to Alan Dershowitz. Maybe it's what happened to everyone else."—Politico

Alan Dershowitz has been called "one of the most prominent and consistent defenders of civil liberties in America" by Politico and "the nation's most peripatetic civil liberties lawyer and one of its most distinguished defenders of individual rights" by Newsweek. Yet he has come under intense criticism for applying those same principles, and his famed "shoe‑on‑the‑other‑foot test," to those accused of sexual misconduct.

In Guilt by Accusation, Dershowitz provides an in‑depth analysis of the false accusations against him, alongside a full presentation of the exculpatory evidence that proves his account, including emails from his accuser and an admission of his innocence from her lawyer, David Boies. Additionally, he examines current attitudes toward accusations of sexual misconduct, which are today, in the age of #MeToo, accepted as implicit truth without giving the accused a fair chance to defend themselves and their innocence, and suggests possible pathways back to a society and legal system in which due process is respected above public opinion and the whims of social media mobs.

This book is Alan Dershowitz's plea for fairness for both accuser and accused, his principled stand for due process no matter the allegation, and his compelling assertion of his own innocence. It is essential reading for anyone who wants to know the inside story behind the accusations against him or who cares about the current societal debate over how we should handle accusations of sexual misconduct.

The #MeToo movement has generally been a force for good, but as with many good movements, it is being exploited by some bad people for personal profit. Supporters of the #MeToo movement must not allow false accusers to hurt real victims by hiding behind its virtuous shield, turning it into an exploitive sword against innocent people.
About the Author
---
Alan Dershowitz is one of the most celebrated lawyers in America. He was the youngest full professor in Harvard Law School history, where he is now the Felix Frankfurter Professor of Law, Emeritus. The author of numerous bestselling books, from Chutzpah to The Case Against Impeaching Trump to The Best Defense to Reversal of Fortune (which was made into an Academy Award–winning film) to Defending Israel, Dershowitz has advised presidents and prime ministers and has represented many prominent men and women, half of them pro bono.
Praise For…
---
PRAISE FOR GUILT BY ACCUSATION 

The Accusation
"[T]he totality of the evidence found during the investigation refutes the allegations."—Louis Freeh, Former Director of the FBI

[She Is] "Wrong… simply wrong."—David Boies, lawyer for accuser
 
The Book
"In Guilt by Accusation, Alan Dershowitz continues a lifetime of work in addressing the toughest issues of our time with integrity, a sharp, clear-eyed analysis, and unbending principle. Prof. Dershowitz, a man of principle and integrity, employs reason as his North Star, and refuses to be silenced by the loudest voices in the room."—Ronald S. Sullivan Jr., Harvard Law School
 
"Alan Dershowitz reminds us that popular mod passions and fashions can turn the blameless into public pariahs.  Accused by a woman he never met, he presents a compelling argument that he was framed for money."—Lucinda Franks Morganthau, Pulitzer Prize writer
 
The Author
"The truth has no greater defender than Alan Dershowitz."—Benjamin Netanyahu

"In 50 years of working with Alan Dershowitz, I have never met a more principled or honest advocate for truth."—Irwin Cotler, Former Attorney General and Minister of Justice, Canada
 
"The fearless, peerless Alan Dershowitz."—Rabbi Lord Jonathan Sacks, Chief Rabbi, Great Britain

"Alan Dershowitz speaks with great passion and personal courage."—Eli Wiesel
 
"Over [his] storied career, Dershowitz has remained more or less unchanged: loud, provocative, brilliant and principled." —Politico

"There are great legal minds; there are those who can also communicate well on television; then there is Dershowitz. The professor is uniquely capable of arguing a position, while putting a premium on legal and ethical legitimacy, not its popularity. Bravo, Dershowitz!"—Chris Cuomo, Anchor And Reporter, CNN

"Anyone interested in the true merits of criminal law and very fine writing must read Alan Dershowitz's book."—Truman Capote
 
"Love him or hate him, Dershowitz has lived a life that matters, hugely and enduringly. He is a man in full at a time when most of us aspire to be little more than a presence on Twitter."—New York Times Book Review

"Courage and principle are rare today. Professor Dershowitz has them both."—Senator Ted Cruz