The Cancel Culture Curse: From Rage to Redemption in a World Gone Mad (Hardcover)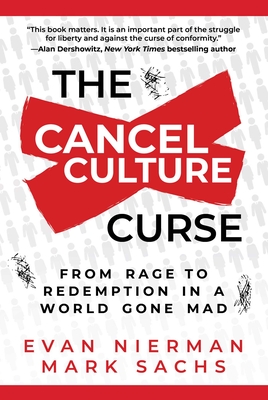 $27.99

Usually Ships in 1-5 Days
Description
---
In a groundbreaking first, cancel culture and its core elements are clearly defined, and a convincing case is made against this fundamentally un-American practice.

Cancel culture is an insidious force in society today. In the seconds it takes to make one regrettable social media post—or wind up on the wrong side of a false accusation or misunderstanding—reputations, relationships, and careers are destroyed. Have we entered an era when people cannot make mistakes; where no apology or change of heart can ever deliver forgiveness? 
 
Making a comeback used to be a celebrated American ideal. But have the roads to redemption been permanently blocked by internet mobs seeking vengeance? 
 
In The Cancel Culture Curse, global crisis manager Evan Nierman and his colleague Mark Sachs examine the impact of cancel culture in today's media-driven world. The authors also explore the history of cancel culture and the trends that have fostered it, defining the telltale elements that are hallmarks of such campaigns.

Nierman and Sachs provide fascinating case studies and interviews with well-known victims of cancel culture, including philosopher Peter Boghossian, Mumford & Sons cofounder Winston Marshall, and "San Francisco Karen," among others. Also featured, is a playbook for rebounding from public shame, helping readers avoid becoming the latest targets of "cancel vultures" who enjoy picking apart the remains of those left to die on the side of the Internet highway. 

 
About the Author
---
Evan Nierman is founder and CEO of Red Banyan, an international crisis management and public relations firm. He and his team have provided counsel to thousands of clients across the world, including scores who have been the targets of cancel culture attacks. Evan's writings on issues related to communications and marketing are featured in a range of leading outlets. He speaks at various conferences and universities around the world and is often called upon by media to provide insight and analysis.
 
Mark Sachs is senior vice president of Client Success at Red Banyan. As a member of the firm's leadership team, Mark heads the effort to scale relationship management and growth models as the agency continues expanding nationally and globally. Mark's professional career can best be described as having "range," equipping him with broad experience in strategic communications, business, science, finance, and foreign policy. 
 
Praise For…
---
"As a survivor of cancel culture who has fought back, I can attest that this book matters. It is an important part of the struggle for liberty and against the curse of conformity. One can agree or disagree with parts of it—read it and decide for yourself—but all who support freedom of speech must join in the authors' war against those who would cancel our hard-earned rights." 
—Alan Dershowitz, Harvard Law School Felix Frankfurter Professor of Law, Emeritus; and New York Times bestselling author

"With the publication of The Cancel Culture Curse, Skyhorse is continuing its proud tradition of fearlessly addressing the most controversial and critical issues of the day. A word to the wise: safeguard your future and the future of freedom of speech generally by paying attention to this book. Skyhorse takes the strongest possible stance against censorship of any kind."
—Tony Lyons, president and publisher, Skyhorse Publishing, Inc.

"In clear, easy to understand prose, The Cancel Culture Curse is the definitive guide to the malignant phenomenon that's come to characterize modern American life. If you want to learn about cancel culture and make a contribution to eliminating this uniquely idiotic and toxic social ill, this is the book for you."
—Peter Boghossian, founding faculty, University of Austin

"Policymakers in Washington and business leaders around the world: ignore this book at your own risk. The Cancel Culture Curse is a compelling, clear-eyed assessment of the potentially devastating consequences of life in the digital age."  
—Jon Missner, managing partner, Stein Mitchell Beato & Missner LLP

"The Cancel Culture Curse is an important book and so timely. The topics it addresses apply to every human being, since people often move far too quickly to criticize one another. Cancel culture is an extreme level of criticism that directs energy in a negative direction, instead of helping people resolve misdoings and guiding them towards leading a more uplifting and rewarding life."
—Dandapani, Hindu priest and author of The Power of Unwavering Focus

"Cancel culture constitutes a clear and present danger to our nation and American society. The Cancel Culture Curse makes a compelling case for better communication, as well as more compassion, forgiveness, and unity." 
—Anthony Scaramucci, founder and managing partner, SkyBridge
 
"The Cancel Culture Curse is exceptionally well written, showcasing how crumbling societal norms and raging online mobs are driving America away from its most cherished, foundational values."
—Armstrong Williams, entrepreneur, author, and national TV personality