Antonia, the Horse Whisperer: The Rosenburg Riding Stables, Volume 1 (Paperback)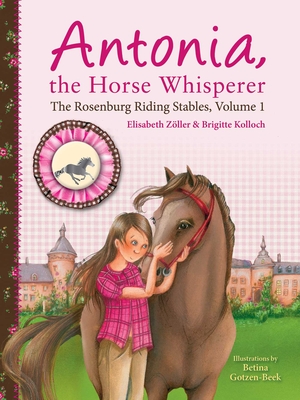 $9.99

Usually Ships in 1-5 Days
Description
---
Antonia must try to tame the wild gelding at the Rosenburg Riding Stables in the first book of this exciting new series!

Antonia Rosenburg has always dreamed of winning the top riding competitions. But now that her faithful horse, Snow White, has become
lame, Antonia's dreams are squelched. How will she ever be able to compete without her trusty friend?

Meanwhile, Rosenburg Riding Stables is receiving a new addition. A famous French jockey wants to board his prize gelding, Elfin Dance, at the stable, and Antonia finds herself overcome with joy and excitement. She immediately forms a deep connection with Elfin Dance, but no one else at the stable can get near him; he bucks them, runs away, and is generally cranky around anyone but Antonia. And while Antonia is fully capable of looking after Elfin Dance, will the famous Frenchman allow an eleven-year-old girl to care for his prize horse? Will Antonia be able to provide love for both him and her beloved Snow White?

When the jockey turns up unexpectedly to check on his horse after a particularly heavy storm, will everything come unraveled with the horse's training, or can Antonia save the day?

This is a friendship between girl and horse beautifully told by Elisabeth Zöller and Brigitte Kolloch, featuring color illustrations by Betina Gotzen-Beek, Antonia, the Horse Whisperer highlights a classic first love for many girls and sets the stage for a new horse series for young readers.
About the Author
---
Elisabeth Zöller is a prolific German author who has been writing for over two decades. Prior to her writing career, Zöller had spent seventeen years at various high schools working with children and young adults. Zöller has written nearly one hundred books, which includes her contributions to journals, anthologies, and a number of successful children's books. She lives in Münster, Germany.

Brigitte Kolloch is a German children's author. While today Kolloch works as a pediatric nurse in a preterm intensive care unit, she also continues to write new stories and poems for children. Her first book was published in 2003, and since then she has worked on a wide range of topics ranging from fairies to eating disorders. She lives with her husband and two daughters in Hanover, Germany.

Betina Gotzen-Beek is a German illustrator who has been working on children's book illustrations since the mid-1990s. She currently lives in Germany.
Praise For…
---
"Horse-loving girls will love this new horse whisperer and come away with a better understanding of the horses they adore." —Dandi Daley Mackall, author of the bestselling series Winnie the Horse Gentler, Starlight Animal Rescue, and Backyard Horses

"Girls who love horses will find plenty to enjoy here, from the sympathetic human and equine characters to the unusual setting. Gotzen-Beek's lively illustrations, reproduced in color, add visual interest to the well-paced story." —Booklist