The Farrows of Hollywood: Their Dark Side of Paradise (Hardcover)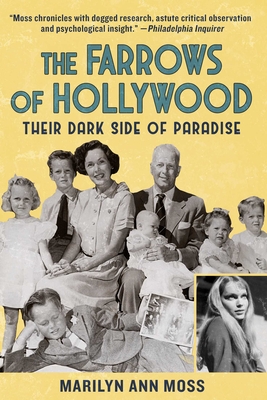 $32.50

Usually Ships in 1-5 Days
Description
---
The first intimate look at the cracked fairytale life of Hollywood's first family, the Farrows.
 
John Farrow was Hollywood royalty. An Academy Award-winning director and screenwriter, he was married to the talented and beautiful actress Maureen O'Sullivan, best known for playing Jane in Tarzan films with Johnny Weissmuller. Together they had seven children, including esteemed actress Mia Farrow, mother of journalist Ronan Farrow. From the outside, they were a fairytale Hollywood family. But all was not as it seemed.

The Farrows of Hollywood: Their Dark Side of Paradise reveals that Mia Farrow's allegations of sexual molestation by Woody Allen of their seven-year-old adopted daughter, Dylan, has roots in Farrow's childhood relationship with her father, John Farrow. John was often an abusive father to his children, his wife, and to his co-workers in Hollywood. Called the most disliked man in Hollywood, John Farrow was a tortured, tragic artist and father. He left his children a legacy of trauma and pain that the family kept hidden. It erupted only years later when Mia Farrow unknowingly revealed her pain through her words and behavior in her allegations aimed at Allen.

The book includes new research, never-before-revealed interviews with actors who worked with John Farrow, and an original theory from author, biographer, and documentarian Marilyn Ann Moss.
About the Author
---
Marilyn Ann Moss, who grew up in Los Angeles, is the author of Raoul Walsh: The True Adventures of Hollywood's Legendary Director ((2011), Giant: George Stevens, a Life on Film (2004), and is editor of the forthcoming collection, Raoul Walsh: Interviews for the University Press of Mississippi's long- running director series. Moss writes book reviews for the Times Literary Supplement and is a former film and television critic for the Hollywood Reporter and Boxoffice Magazine. She holds a PhD in American literature, film studies, and autobiography theory. She co-curated retrospectives of Raoul Walsh's films at the American Cinematheque in Hollywood, and has spoken at film retrospectives at UCLA, the Turner Classic Movies Film Festival, and at the Academy of Motion Picture Arts and Sciences. In 2021, the Criterion Collection released her 2019, feature-length documentary, The True Adventures of Raoul Walsh, on Blu-ray.
 
Praise For…
---
"An immersing and compelling read about a renowned Hollywood family."
—Library Journal

"Film scholar Marilyn Ann Moss embraces the messiness of real life in an astonishingly good new book, The Farrows of Hollywood. Released by vigilante independent publisher Skyhorse, which picks up books institutions want canceled but readers want released, this volume delves into the sad, strange history of the Farrow family. It serves as a useful reminder that nearly everyone has closets with skeletons. . . . After reading this rigorously researched, perceptively written book, however, we know one other thing for sure: in the Woody-Mia contretemps, only a fool would try to find the moral high ground. 'What a mess' is a more sensible reaction than any firm feeling about the parties' innocence or guilt, let alone virtue or sinfulness."
—Washington Examiner

"Introducing the Farrows, Hollywood royalty who had it all: sex, drugs, and cheating hearts . . . With a tale that includes the Black Dahlia, the Manson family, Frank Sinatra, and the Maharishi Mahesh Yogi . . . YOU GOTTA LOVE THIS FAMILY!"
—Paul Lynch, director of Star Trek: The Next Generation, Prom Night, and The (New) Twilight Zone

"Bad men leave a deep imprint on their communities and, especially, on their families. Case in point, John Farrow, Hollywood director of the film noir era; tall, handsome, commanding, a magnet for the ladies—but also a bullying brute on set, a serial abuser of actresses, a person Katharine Hepburn called the most depraved man she had ever known. And Mia Farrow's father. It's the impact of this man's schizophrenic reign of trauma on those who worked and lived with him that is at the heart of Marilyn Moss's compelling new book. Scrupulously researched, as it had to be— Farrow's past was shrouded in mystery—and sharply written, it unravels as a twisted tale of a twisted man who left his mark on his oldest daughter in ways that have only become clear with the passage of time."
—William Gray, screenwriter of The Changeling

"Like her marvelous books on directors George Stevens and Raoul Walsh, Marilyn Ann Moss's The Farrows of Hollywood delves deep into its subject and is a flat-out pleasure to read. She excavates the rich and tragic history of writer and director John Farrow, who was as intent on self-destruction as he was on achieving fame and acclaim. The saga of his marriage to the established star Maureen O'Sullivan is no less troubling and just as expertly told. Then, there's the tale of their seven offspring, with its central episode devoted to Mia Farrow's and Woody Allen's tortured relationship."
—Robert L. Pincus, art critic, cultural historian, and author of Edward and Nancy Reddin Kienholz: On a Scale That Competes with the World

"The great revelation of The Farrows of Hollywood is the engrossing character of patriarch John Farrow, a handsome poseur, fabricator, sadist, compulsive womanizer, and devout Catholic who managed to parlay his storytelling skills into becoming a film director. Nonetheless, he was a talented director who, at his best, memorably evoked his personal demons in noirs like The Big Clock, Where Danger Lives, and the Faustian Alias Nick Beal in what author Marilyn Ann Moss describes as a landscape of his unconscious. Moss makes a convincing case that his traumatic legacy had profound effects on the characters of his children, especially daughter Mia."
—Frederic Lombardi, author of Allan Dwan and the Rise and Decline of the Hollywood Studios

"As a Hollywood dynasty, the Farrows have been overshadowed by the likes of the Fondas, the Hustons, and the Coppolas, but their contributions to film history and to popular cultural in general are significant and well worth delving into. With this rich and deep dive, Marilyn Moss crafts a vivid story of multiple generations of lives lived in the spotlight, whether they welcomed the attention or not. Great stuff."
—Shawn Levy, author of The Castle on Sunset, Paul Newman: A Life, and In on the Joke