The World Almanac 5,001 Incredible Facts for Kids on America's Past, Present, and Future (Hardcover)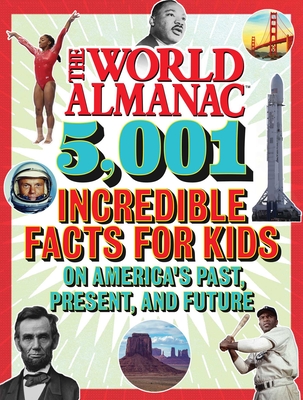 Description
---
From the #1 New York Times bestselling World Almanac™ comes a full‑color, full‑of‑fun, oversize book packed with thousands of awesome facts about America—everything about the 50 states and beyond.
 
Kids want to learn about the world around them, and with this engaging, colorful collection of facts, figures, photographs, and fun, they will. Perfect for home or for school, and a great gift for any curious reader, here are thousands of fascinating and surprising facts about about the United States, from its natural resources and landmarks, to the first peoples to inhabit and explore the Americas, to the innovation and diversity of the nation in the 21st century––and everything in between. Kids, teachers, and families will find timely and timeless information on an enormous variety of subjects. It will give readers hours and hours of fun while it educates and illuminates.
About the Author
---
World Almanac Kids™ offers children, parents, and teachers a chance to explore our world and beyond from a source that's been trusted by schools, families, businesses, governments, and even presidents for generations. A #1 New York Times bestseller, The World Almanacwas first published in 1868 and has sold 83 million copies.