Cancel This Book: The Progressive Case Against Cancel Culture (Hardcover)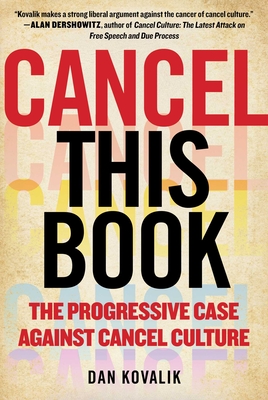 $24.99
Email or call for price
Description
---
Examining a phenomenon that is sweeping the country, Cancel This Book shines the spotlight on the suppression of open and candid debate. 
 
The public shaming of individuals for actual or perceived offenses, often against emerging notions of proper racial and gender norms and relations, has become commonplace. In a number of cases, the shaming is accompanied by calls for the offending individuals to lose their jobs, positions, or other status. Frequently, those targeted for "cancellation" simply do not know the latest, ever-changing norms (often related to language) that they are accused of transgressing—or they have honest questions about issues that have been deemed off-limits for debate and discussion.  
 
Cancel This Book offers a unique perspective from Dan Kovalik, a progressive author who supports the ongoing movements for racial and gender equality and justice, but who is concerned about the prevalence of "cancelling" people, and especially of people who are well-intentioned and who are themselves allied with these movements.     
 
While many progressives believe that "cancelling" others is a form of activism and holding others accountable, Cancel This Book argues that "cancellation" is oftentimes counter-productive and destructive of the very values which the "cancellers" claim to support. And indeed, we now see instances in the workplace where employers are using this spirt of "cancellation" to pit employees against each other, to exert more control over the workforce and to undermine worker and labor solidarity. 
 
Kovalik observes that many progressives are quietly opposed to this "Cancel Culture" and to many instances of "cancellation" they witness, but they are afraid to air these concerns publicly lest they themselves be "cancelled."  The result is the suppression of open debate about important issues involving racial and gender matters, and even issues related to how to best confront the current COVID-19 pandemic.  While people speak in whispers about their true feelings about such issues, critical debate and discussion is avoided, resentments build, and the movement for justice and equality is ultimately disserved.  
 
About the Author
---
Daniel Kovalik has been a labor and human rights lawyer since graduating from Columbia Law School in 1993. He has represented plaintiffs in ATS cases arising out of egregious human rights abuses in Colombia. He received the David W. Mills Mentoring Fellowship from Stanford Law School, has written extensively for the Huffington Post and Counterpunch, and has lectured throughout the world.
Praise For…
---
"The liberal proponents of cancel culture, as Dan Kovalik correctly points out, have become the Grand Inquisitors of speech. They wallow in a cloying self-righteousness while at the same time they refuse, either because of cowardice or ineptitude, to confront the real centers of power—the array of intelligence agencies that monitor and watch us 24 hours a day, the rampant out-of-control militarism, Wall Street, Silicon Valley, and the bankrupt corporate media outlets that amplify their petty moral absolutism. The proponents of cancel culture are part of the American burlesque of anti-politics masquerading as politics."
—Chris Hedges, Pulitzer Prize-winning journalist and author of America: The Farewell Tour
 
"The strongest case against cancel culture should come from liberals and progressives who treasure freedom of speech and due process. Unfortunately, too many of them are asleep at the wheel. Not so Kovalik, who makes a strong liberal argument against the cancer of cancel culture."
—Alan Dershowitz, author of Cancel Culture: The Latest Attack on Free Speech and Due Process 
 
"Thankfully, Kovalik helps to cut through the Orwellian lies and dissembling . . . just when such truth-telling is so desperately needed."
—Oliver Stone, author and Academy Award-winning director, producer, and screenwriter
 
"Kovalik offers an unflinching and desperately needed critique, not only of cancel culture, but also of the US left, which has largely forsaken class struggle for identity politics and political correctness."
—Greg Godels, writer covering political economy, current events, and philosophy

"Dan Kovalik's latest is a much-needed, laudable enterprise, courageously sounding the alarm about a tyranny being perpetrated in the name of moral and social renewal. . . . Cancel culture is militantly aggressive, unforgiving, ruthless, aimed at vilification and final extirpation of anyone who disagrees with or in any way resists its unbending, non-negotiable agenda."
 —John Rachel, Dissident Voice
 
Cancel This Book, takes aim at the domestic progressive scene and its 'cancel culture' aberration. . . . In his personable and anecdotal style, Kovalik compellingly revisits some of the better-known excesses of cancel culture. . . . Cancel is full of gems unearthed by Kovalik. . . . I look forward to the next book from the perceptive and prolific Dan Kovalik, which could go further and illuminate the dynamics of the underlying forces rising at this historical junction associated with the bankruptcy of liberalism and the failure of neoliberalism to serve its constituents.
—Roger Harris, Counterpunch