Men and Miscarriage: A Dad's Guide to Grief, Relationships, and Healing After Loss (Hardcover)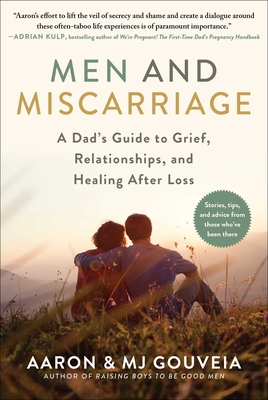 $24.99
Email or call for price
Description
---
From an esteemed author known for battling gender norms and bringing down "man up" culture, comes this essential guide for men and those who love them. 

Miscarriage, infertility, and abortion are generally considered women's issues—and while they are far from uncommon in our society, open conversations surrounding those topics are exceedingly rare. They're seen as taboo, even distasteful. And that's just for women.

When it comes to men and how they are impacted by these issues, it's almost complete radio silence. It's not that men don't think about these things or aren't affected—after all, they make up half of most couples experiencing these issues—it's that toxic masculinity and gender stereotypes in our society tell men that suffering in silence equals strength and expressing emotions is weakness. It's men not knowing how to feel, how to express those feelings, or if they're even allowed to feel this trauma beyond supporting their partner.

In Men and Miscarriage, husband and wife Aaron and MJ Gouveia ask men (and others) these questions directly. Using their own personal experiences enduring four miscarriages and a medically-necessary abortion combined with interviews of people from all different backgrounds and walks of life, the couple sheds light on how these topics influence men, women, their relationships, their mental health, and examines the shame and stigma too often associated with pregnancies that don't go as planned.
 
About the Author
---
Aaron Gouveia is a former award-winning journalist who has appeared in TIME, the TODAY Show, Good Morning America, People, Mashable,and USA Today to discuss topics on parenting young boys in the age of toxic masculinity. He started the website The Daddy Files in 2008 to promote involved fatherhood, has contributed to Parents, American Baby, and the Huffington Post, and is a regular speaker at parenting conferences. His content on topics like gun control and abortion have been seen by millions around the world. He resides in Franklin, Massachusetts, with his wife and three sons.

MJ Gouveia is a former top-performing bank manager and stay-at-home mom who has appeared on CBS and NBC to talk about abortion and childhood bullying. They reside in Franklin, Massachusetts, with their three sons, two cats, and dog.
Praise For…
---
"The Gouveias' book works to change this approach. Sharing their own experiences and incorporating a variety of interviews of other parents who have experienced miscarriage, the couple examines the shame and stigma associated with pregnancies that don't go as planned. The work also seeks to understand more about why men don't seek more opportunities to express their feelings during these seasons of grief."
—CNN

"Becoming a father has been one of the greatest joys of my lifetime, however, for many of us, the road leading to this destination hasn't always been smooth. You may not always see it, but this landscape is filled with agonizing stories of infertility, miscarriage, and beyond. Aaron lays it all out on the table, recalling his own personal experiences combined with that of a cross-section of men and women with their own narratives. His effort to lift the veil of secrecy and shame and create a dialogue around these often-taboo life experiences is of paramount importance—not just for those of us who are experiencing it, but for society as a whole."
—Adrian Kulp, bestselling author of We're Pregnant! The First-Time Dad's Pregnancy Handbook
 
"In Men and Miscarriage, Aaron and MJ Gouveia lay out a no-BS playbook for men and couples to navigate the aftermath of miscarriage. Through the unfiltered lens of their own fertility journey and candid interviews with other families, we get real talk—and real answers—on tough subjects. They don't shy away from the hard parts, and it pays off. The insights and techniques in this book can help men come to terms with their emotions, overcome isolation, and build essential communication skills with their partner."
—John and Carrie Pacini, cofounders, Dad 2.0 & Mom 2.0

"As an early IVF pioneer in the 1980s, I learned that emotional support for women was scarce, but for men was nonexistent. 'Test tube babies' were still viewed as suspect, if not monstrous. Without social media and blogging, depression and isolation were commonplace yet hidden from view. Therapeutic support could only be accessed privately or through the national infertility association RESOLVE, which provided in-person groups and phone contacts that men did not use. Male grief and loss were left unaddressed. Over three decades later, long after the miraculous birth of my daughter, Aaron and MJ Gouveia have created the resource that might have made a difference in the health of my first marriage. As a psychologist and feminist author, I think and write a lot about gendered communication patterns in a society that expects men to stoically forgo mental healthcare lest they be viewed as weak. The Gouveias bust this myth wide open and expose it for the damaging stereotype that it is. This is a must-read for all people struggling with reproductive issues and the strain they put on relationships. If romantic relationships involve two people, then the care and feeding of those relationships require two people as well. This is an indispensable resource for couples experiencing pain and heartbreak in the journey toward parenthood."
—Lori Day, educational psychologist and author of Her Next Chapter

"The Gouveias have experienced much in the way of love and heartbreak. In sharing their story together, it transcends beyond the telling, feeling more like a warm conversation open to all who have known a version of this sorrow. Their candor invites us to loosen the respective weight of our own emotional journey, to sit a spell and talk about it. It is real and relatable, and the perfect read for anyone in search of comfort and empathy."
—Whit Honea, author of The Parents' Phrase Book

"Aaron and MJ . . . recognize that toxicity of the definition of masculinity in our culture has robbed a lot of men of the ability to express and sit with their grief. Your Average-Joe American dude has not had the freedom and nurturing necessary to be comfortable admitting and showing deep emotion. (They) hope to bring this into the light so more men might be able to admit that losing their baby during pregnancy—even though they weren't the one carrying it—can come with life-altering grief. They need permission and encouragement to admit and address that pain. Men and Miscarriage can be just the encouragement they need."
—ScaryMommy.com 

Praise for Aaron Gouveia's Raising Boys to Be Good Men

"If you are the parent of a boy—especially a dad—this is the book you have been waiting for, the book you need. Gouveia, who has three sons, has thought deeply and sometimes uncomfortably about his own masculine identity and how it informs his fatherhood. His insightful, enlightened, practical guidance will help you raise not only 'good' but in fact the very best of men!" 
 —Peggy Orenstein, New York Times bestselling author of Boys & Sex

"Whether we admit it or not, every guy struggles with the question of what it means to be a man. With good humor and practical advice, Aaron Gouveia tackles the question head-on in this unflinching but tender account of his own journey through the minefield of masculinity to become a better husband, dad, and human. The perfect read for any father or father-to-be." 
—Michael Ian Black, New York Times bestselling author, actor, and comedian

"This book is gold! Not only is this a great parenting book, but it's a great book about life in general. Raising Boys to be Good Men is a fun, hard-hitting, enjoyable read that will make people rethink how they're raising their tiny humans in today's world."
—Doyin Richards, bestselling author of What's the Difference and Daddy Doin' Work

"How refreshing to see a man, and dad of three sons, take on the 'restrictive bullshit that's been choking boys forever' and teaching them a different way." 
—Upworthy

"Aaron has been an important voice in the online parenting community for years, and he delivers this important message with his characteristic bluntness, passion, and erudition. He'll call out anyone's behavior—including his own—to make sure his three sons inhabit a world with a healthier appreciation for what men can and should be. And we'll all be better for it." 
—Doug French, co-founder of Dad 2.0