Hacks for Minecrafters: Earth: The Unofficial Guide to Tips and Tricks That Other Guides Won't Teach You (Hardcover)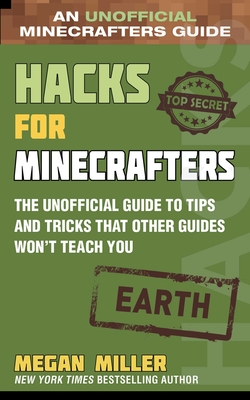 $12.99

Usually Ships in 1-5 Days
Description
---
Hacks for the fully mobile, real-world gaming experience by New York Times bestselling author Megan Miller.
With
Hacks for Minecrafters: Earth
, you'll know everything you need to know to harness the world of cutting-edge, augmented-reality world of Minecraft Earth on your phone or tablet. This is the illustrated guide you need to create the best structures, embark on the most exciting virtual adventures with friends, and unlock the most exclusive resources and mobs available.  
In this hacker's guide, you'll find inside tips on:  
Tappables—Collecting the best build materials and mobs in your area!
Crafting—Managing, smelting and using your resources to craft like a pro!
Buildplates—Placing them, using tabletop and life-size mode, inviting friends to build with you, and more!
Adventures—Mining, battling, and discovering exciting worlds with friends!
You will never be stuck again. With more than one hundred full-color screenshots of in-game footage, you'll be able to carefully follow every tip with precision. With
Hacks for Minecrafters
:
Minecraft Earth
, you'll have all the inside information you need to call yourself a pro Minecraft Earth gamer.  
About the Author
---
Megan Miller was born in Talara, Peru, and from there grew up in Miami, Barcelona, and the suburbs of London, England. She's also lived in Houston, Austin, NYC, the Hudson Valley, Kentucky, and finally New Mexico. She plays Minecraft daily, and has also spent many hours in the past with arcade game Centipede, the first Castle Wolfenstein shooters, the first color Mac space shooter Crystal Quest, The Sims, Sim City (1-3), City Skylines, Civilization, and more. You can contact her through her website, meganfmiller.com - (see you there!)