Guns and Control: A Nonpartisan Guide to Understanding Mass Public Shootings, Gun Accidents, Crime, Public Carry, Suicides, Defensive Use, and More (Hardcover)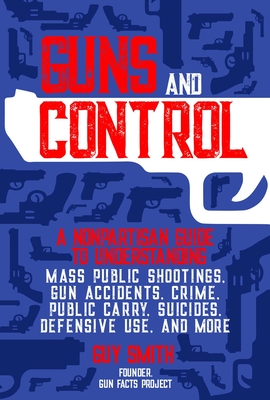 $22.99
Email or call for price
Description
---
A Nonpartisan guide that arms both sides of the gun control debate.

The slogan of the Gun Facts Project is "We are neither pro-gun nor anti-gun. We are pro-math and anti-BS." From project creator Guy Smith comes Guns and Control: A Nonpartisan Guide to Mass Public Shootings, Gun Accidents, Crime, Public Carry, Suicides, Defensive Use, and More. No matter what side of the aisle one is on, people are baffled by gun control. This book is designed to be a guide to thoughtful discussion; it arms readers with facts and the logic behind conflicting arguments and leaves emotional rhetoric to the pundits and focuses on the thorny issues of the debate. Guns and Control will:

• Guide readers step-wise through each of the major gun control topics: mass public shootings, assault weapons, street crime, suicide, private carry, defensive gun use, gun availability, and more.
• Help readers gain the broad perspective and the full set of important, true facts, just in time for the 2020 Presidential Election.
• Arm readers against some of the more egregious misinformation.
• Support readers in formulating their own conclusions.

Guns and Control will grant high-level perspectives—for example, that mass public shootings are a global phenomenon, occurring in nearly all developed nations—and explore details to understand the causes, and thus possible cures, of gun violence-related problems. Was the push for de-institutionalization in mental health management a contributing factor to the rise in mass public shootings? Guns and Control will help readers find answers to such questions. What the public lacks is a clear, unbiased, broad perspective on the realities of guns, explained in simple, straightforward, and entertaining ways. Guns and Control will demystify these misunderstood aspects of who uses and misuses guns. 
About the Author
---
Guy Smith is internationally known as a gun control policy analyst. He is the founder and chief researcher at the Gun Facts Project. In twenty years as a policy analyst, Smith has contributed to public understanding of the realities of guns and their control through both secondary and primary research, occasionally breaking new ground on key topics (he personally conducted work mapping issues of mental health, psychotropic prescription medications and mass public shootings). In the past two decades, Gun Facts has been directly distributed to more than 165 countries around the world, and is routinely referenced in testimony, including that by Dick Heller, the namesake of the famous 2008 Supreme Court decision reaffirming the constitutional right to own a handgun.