The Illustrated Directory of Guitars (Paperback)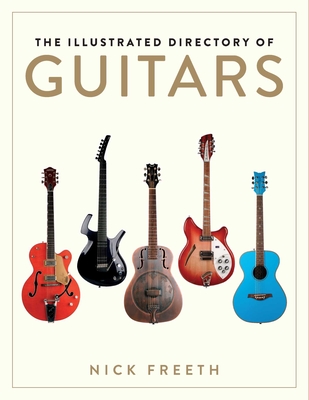 $24.99

Usually Ships in 1-5 Days
Description
---
The most comprehensive reference book available to collectors, luthiers, musicians and the general reader.

The Illustrated Directory series provide enthusiasts with a fully illustrated, comprehensive, hardcover reference book packed with timelines, historical facts and images designed to inform and excite. Organized in alphabetical order for quick reference, many of the instruments are featured as a double page entry showing them in their entirety as well as featuring close-ups of important details special to that model. 

The Illustrated Directory of Guitars is the most ambitious and lavishly illustrated history of guitars for the collector and musician. The book shows in clear, detailed photographs and text over 360 landmark instruments of all kinds, from acoustic to solid, including base guitars and multi-stringed variants. Each entry has a double-page spread showing the guitar from different angles and features close-ups of details special to that particular instrument. Each guitar has been specially studio photographed for this extraordinary book. The book also features an introduction on the history of guitars, and a quick reference listing of every instrument features.
About the Author
---
Nick Freeth is a producer and broadcaster with more than 20 years' experience in the music industry.  He is a former senior producer with the BBC World Service and Jazz FM.   He has written several books including The Electric Guitar, The Acoustic Guitar, Route 66, Pacific Coast Highway, and Made in America. He owns and plays a Fender Stratocaster.