Amanda Knox and Justice in the Age of Judgment (Hardcover)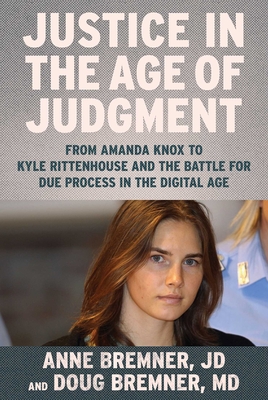 Description
---
Amanda Knox's case was the first of its kind. This is the inside story of how Anne Bremner had to call upon all her experience—with Michael Jackson, OJ Simpson, and Mark Kay Letourneau—to save an innocent girl's life.

The trial of Amanda Knox and her boyfriend, Raffaele Sollecito, for the murder of Meredith Kercher has been called the trial of the decade. Tabloids across the world were enthralled—the idea of an American murdering a British exchange student in a sex ritual was as juicy as they come, lack of evidence be damned—and the case remains popular culture, spawning Netflix's Amanda Knox documentary and Knox's New York Times bestselling memoir, Waiting to Be Heard.

Those around Knox turned to Anne Bremner, an accomplished Seattle attorney and frequent legal analyst for the media, for Knox's defense. Bremner's real challenge was swaying the jury's and the public's preconceived notions; Perugia law enforcement, forensics, and prosecutor Giuliano Mignini had massive holes in their case, but social media and the press had already convicted Knox.

Amanda Knox and Justice in the Age of Judgement is Bremner's story of how she drew upon all her experience to win a new kind of case—the TV and social media case—and prove Rudy Guede had acted alone in killing Kercher. But it's also the story of a changing concept of justice, now beholden to public opinion before the burden of proof and innocence until proven guilty. Bremner takes us with her into the courtroom and the TV studio as she pursues Knox's exoneration, and then to today, examining how #MeToo and the Brett Kavanaugh hearings are an evolution of what began with the Amanda Knox case.
About the Author
---
Anne Bremner, JD, is a trial attorney and one of the nation's most recognized legal analysts. Her practice emphasizes civil rights, catastrophic loss, defense, and criminal law. In her 35 years of practice, she has been lead counsel for many highly publicized court cases. Anne is a regular contributing legal analyst on TV and cable, having appeared many times on networks including CNN, Fox, CBS, NBC, MSNBC, the BBC, and others. She has been voted one of the best lawyers in Seattle and one of Seattle's Top 25 most influential people. She is a Stanford graduate and has a perfect AVVO rating as an attorney. She lives in Seattle, Washington.