The Unofficial Encyclopedia of Ultimate Challenges for Minecrafters: New Adventures and Thrilling Dares to Take Your Game to the Next Level (Encyclopedia for Minecrafters) (Hardcover)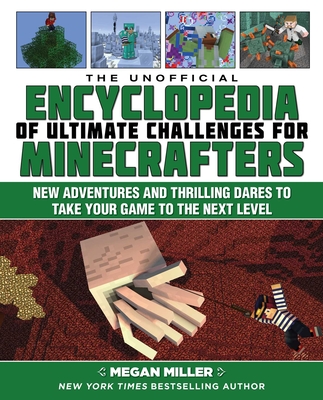 $17.99
Email or call for price
Description
---
Attention all boys and girls who love Minecraft! Here is a full-color book of activities inspired from your favorite game.
The Minecraft universe is limitless. You can explore as far as you like, build never-ending castles, and battle hordes of monsters. But once you have your base, farms, weapons, and armor, what's next?
When you're tired of the same old moves and you're hungry for new gameplay,
The Unofficial Encyclopedia of Ultimate Challenges for Minecrafters
will keep you busy with advanced maneuvers, thrilling new adventures, and extreme dares. You're not a true champion Minecrafter until you've . . .
Collected every mob in your own zoo
Played the game King of the Ladder
Completed every in-game advancement
Defeated the Ender Dragon in hardcore mode
Survived Survival Island
Bested Ultra Hardcore PVE/PVP competitions
And more!
With hundreds of screenshots for easy visual reference and definitions of every term that might trip a player up, this exciting book covers the A to Z of exploring the infinite possibilities of Minecraft gameplay.
About the Author
---
Megan Miller was born in Talara, Peru, and from there grew up in Miami, Barcelona, and the suburbs of London, England. She's also lived in Houston, Austin, NYC, the Hudson Valley, Kentucky, and finally New Mexico. She plays Minecraft daily, and has also spent many hours in the past with arcade game Centipede, the first Castle Wolfenstein shooters, the first color Mac space shooter Crystal Quest, The Sims, Sim City (1-3), City Skylines, Civilization, and more. You can contact her through her website, meganfmiller.com - (see you there!)