Hacks for Minecrafters: Master Builder: The Unofficial Guide to Tips and Tricks That Other Guides Won't Teach You (Paperback)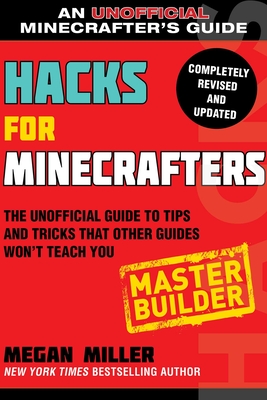 $7.99

Usually Ships in 1-5 Days
Description
---
New York Times bestselling author. Here is a guide for boys and girls to the many amazing builds you can create in Minecraft.
With hundreds of millions of players, Minecraft has taken control of gamers all over the world. With
Hacks for Minecrafters: Master Builder
, you'll be able to take back that control! Now you can craft your world exactly how you want it to look, all while discovering the hidden gems of the game.
Updated to add enew function and crafting systems, illusioners, parrots, and building materials like glazed terracotta and concrete,
Hacks for Minecrafters: Master Builder
, explains how to build the coolest stuff, including an underwater house, a pirate ship, and a fortified castle! Other tips will help gamers:
Find the best locations
Choose their favorite style
Learn how to get started with foundations and walls
Become landscaping experts
Learn how to decorate their living room
And much more!
Packed with expert tips, cheats, and hacks on planning all types of buildings and with more than one hundred screenshots,
Hacks for Minecrafters: Master Builder
shows exactly how the experts bring their amazing structures to life, from designing realistic roofs and exteriors to planning crenellated castle battlements. Detailed step-by-step illustrated guides will let every kid follow along to build their very own awesome castles, bridges, and farms and add the decor and landscaping details that bring their creations to life.
About the Author
---
Megan Miller was born in Talara, Peru, and from there grew up in Miami, Barcelona, and the suburbs of London, England. She's also lived in Houston, Austin, NYC, the Hudson Valley, Kentucky, and finally New Mexico. She plays Minecraft daily, and has also spent many hours in the past with arcade game Centipede, the first Castle Wolfenstein shooters, the first color Mac space shooter Crystal Quest, The Sims, Sim City (1-3), City Skylines, Civilization, and more. You can contact her through her website, meganfmiller.com - (see you there!)