Deepa's Secrets: Slow Carb New Indian Cuisine (Hardcover)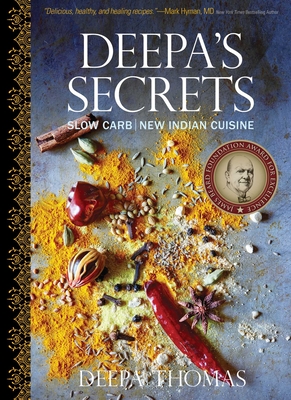 Description
---
Winner of the 2018 James Beard Foundation Book Awards * Winner of the World Gourmand Cookbook Awards * Finalist for the IACP Awards *Shortlisted for the NCIBA Book Awards, Best Cookbook
A journey from old traditions to modern Indian cooking with deliciously simple and gut-healing recipes that leave you feeling fulfilled—rather than full.
Upon learning that rice and bread were the culprits for her husband's Type 2 diabetes, Deepa Thomas deconstructed and reinvented her native Indian cuisine. Deepa made anew seventy low carb recipes, incorporating time-saving Western cooking techniques, breaking-news research on gut health and weight loss, and Ayurvedic wisdoms ("When diet is right, medicine is of no need; and when diet is wrong, medicine is of no use."). After six months of cooking and eating "New Indian," Deepa lost twenty pounds and freed her husband from a ten-year routine of insulin shots.
Part cookbook and memoir,
Deepa's Secrets
introduces breakthrough slow carb and gut-healing recipes that are simple and nutrient-packed, without sacrificing its rich South Asian flavors. On a mission to demystify and make healthy an "exotic" cuisine, Deepa shares shortcuts and techniques that will make "New Indian" everyday fare. Bold and intimate,
Deepa's Secrets
will undoubtedly change your cooking, and quite possibly your life, featuring East-to-West recipes such as:
Ralph's Garlicky Spinach a la Dal
Ammachi's Claypot Fish Molee
General Joseph's Five-Star Chicken Batons
New Indian Cacciatore
Masala Omelet
The author is donating her royalties to FoodCorps, a nonprofit that connects children to healthy food in American schools.
About the Author
---
Deepa Thomas is a graduate of Delhi University with degrees in journalism and political science. She moved to the US and, in 1985, founded Deepa Textiles. After 21 years and 23 design awards, the company has been credited with transforming the $10 billion a year contract furniture industry. Since 2010, Deepa has combined her passion for journalism with her newfound passion for cooking, deconstructing the principles of the most successful diets and healthy living practices in order to reconstruct a simple, slow carb "New Indian" cuisine. Deepa has served as a trustee of Rhode Island School of Design and a Commissioner of the Asian Art Museum. She is currently a trustee of Grace Cathedral in San Francisco. She won the James Beard Award in 2018 for her cookbook / memoir, Deepa's Secrets. Deepa Thomas lives with her husband, not far from her two sons, in the Nob Hill section of San Francisco.

Curt Ellis, author of the foreword, is an American filmmaker, social entrepreneur, and advocate for sustainable agriculture. He is the CEO of the nonprofit organization FoodCorps.
Praise For…
---
"Deepa embodies what I tell my patients on a daily basis: we all have the potential to have a vibrant life even when dealing with health challenges. By reinterpreting the most flavorful dishes of her native India and removing the rice and bread, she helped free her husband from 10 years of insulin shots, by stabilizing his blood sugar and improving his health. Deepa's Secrets is not only filled with delicious, healthy, and healing recipes but with wonderful stories about a colorful and inspiring life. "
—Mark Hyman, MD, author of the #1 bestseller Eat Fat Get Thin; director of Cleveland Clinic Center for Functional Medicine
"Thomas—spurred by an interest in all things healthy, by a concern for her husband's dependence on insulin as a type 2 diabetic, and by the ayurvedic proverb "When diet is wrong, medicine is of no use. When diet is correct, medicine is of no need"—decided to hunt for edible foodstuffs sans the bad carbohydrates, with an Indian flavor. . . . In between her secrets (e.g., read labels carefully; maple syrup, for instance, might include sugar) and educational asides (did you know that mace is ground-up nutmeg shells?), she helps readers learn a new culinary language . . . A testimony to the power of perseverance—and patience in assembling all the necessary ingredients, from scratch."
—Booklist, Starred Review
"Thomas had an epiphany about the role these sources of simple carbohydrates played in her husband's diabetes . . . and she shares that epiphany and the recipes it prompted in this solid, informative cookbook. . . . Engaging personal stories combined with artfully scattered notes and hints make this book reminiscent of the earliest Moosewood Cookbook in its tone and inviting narrative."
—Publishers Weekly
"They're no longer secrets! Home cooks and professional chefs will be inspired to use Deepa's original, simple methods for harnessing complex flavors to create amazing tastes."
—Srijith Gopinathan, executive chef of two-Michelin starred Taj Campton Place
"Deepa's story takes us further: to a world where amazing things are possible, and to a world-view where we are empowered to not just follow recipes for joy, love and wellbeing, but to create them."
—Curt Ellis, CEO, FoodCorps
"This not just another 'cookbook' . . . We owe Deepa a bouquet of gratitude for her comprehensive and informative treatise."
—Dr. Joan Fallon, founder and CEO of Curemark
"Deepa's journey is one of great joy and compassion. Your life will be enriched for knowing her."
—Susan Dryfoos, Oscar-nominated documentary filmmaker
"As soon as Deepa Thomas discovered the culprits [of diabetes—rice and bread], she dwelt into six months of cooking and eating "New Indian." The result? The author of this well-written, invaluable book lost 20 pounds and freed her [husband] from a 10-year routine of insulin shots."
—Khaas Baat
"There is the old adage that you can either eat to live or live to eat. By following the recipes and using healthy ingredients mentioned in Deepa's Secrets, you can have the best of both worlds. With its rich pictures and lavish design, this visual cookbook with healing recipes is a must have for every coffee table—except that this book is more likely to be dog eared at the kitchen table."
—India Currents

"Deepa embodies what I tell my patients on a daily basis: we all have the potential to have a vibrant life even when dealing with health challenges. By reinterpreting the most flavorful dishes of her native India and removing the rice and bread, she helped free her husband from 10 years of insulin shots, by stabilizing his blood sugar and improving his health. Deepa's Secrets is not only filled with delicious, healthy, and healing recipes but with wonderful stories about a colorful and inspiring life. "
—Mark Hyman, MD, author of the #1 bestseller Eat Fat Get Thin; director of Cleveland Clinic Center for Functional Medicine
"Thomas—spurred by an interest in all things healthy, by a concern for her husband's dependence on insulin as a type 2 diabetic, and by the ayurvedic proverb "When diet is wrong, medicine is of no use. When diet is correct, medicine is of no need"—decided to hunt for edible foodstuffs sans the bad carbohydrates, with an Indian flavor. . . . In between her secrets (e.g., read labels carefully; maple syrup, for instance, might include sugar) and educational asides (did you know that mace is ground-up nutmeg shells?), she helps readers learn a new culinary language . . . A testimony to the power of perseverance—and patience in assembling all the necessary ingredients, from scratch."
—Booklist, Starred Review
"Thomas had an epiphany about the role these sources of simple carbohydrates played in her husband's diabetes . . . and she shares that epiphany and the recipes it prompted in this solid, informative cookbook. . . . Engaging personal stories combined with artfully scattered notes and hints make this book reminiscent of the earliest Moosewood Cookbook in its tone and inviting narrative."
—Publishers Weekly
"They're no longer secrets! Home cooks and professional chefs will be inspired to use Deepa's original, simple methods for harnessing complex flavors to create amazing tastes."
—Srijith Gopinathan, executive chef of two-Michelin starred Taj Campton Place
"Deepa's story takes us further: to a world where amazing things are possible, and to a world-view where we are empowered to not just follow recipes for joy, love and wellbeing, but to create them."
—Curt Ellis, CEO, FoodCorps
"This not just another 'cookbook' . . . We owe Deepa a bouquet of gratitude for her comprehensive and informative treatise."
—Dr. Joan Fallon, founder and CEO of Curemark
"Deepa's journey is one of great joy and compassion. Your life will be enriched for knowing her."
—Susan Dryfoos, Oscar-nominated documentary filmmaker
"As soon as Deepa Thomas discovered the culprits [of diabetes—rice and bread], she dwelt into six months of cooking and eating "New Indian." The result? The author of this well-written, invaluable book lost 20 pounds and freed her [husband] from a 10-year routine of insulin shots."
—Khaas Baat
"There is the old adage that you can either eat to live or live to eat. By following the recipes and using healthy ingredients mentioned in Deepa's Secrets, you can have the best of both worlds. With its rich pictures and lavish design, this visual cookbook with healing recipes is a must have for every coffee table—except that this book is more likely to be dog eared at the kitchen table."
—India Currents