Whimsical Woodland Creatures: Coloring for Everyone (Creative Stress Relieving Adult Coloring Book Series) (Paperback)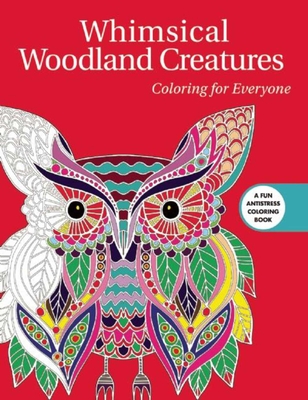 $9.99
Email or call for price
Description
---
Woodland animals have romped through our imaginations since we were young—from our favorite story books and animated films to our treasured stuffed toys. But rabbits and bears are no longer just for the kiddies! Reconnect with your favorite furry companions in this adult coloring book. Pages of critters await you in this grand collection of designs just waiting to be discovered.

Whimsical Woodland Creatures: Coloring for Everyone brings the wild animal kingdom to your colored pencil tip! Forty-five black-and-white designs are accompanied by forty-five coordinating pre-colored versions to inspire your creations. Wolves and bears bide their time while owls, butterflies, and deer linger over these pages, waiting for your imagination to bring them to life. The pages are perforated, so each masterpiece can be removed and placed on display for all the world to admire!

In this book, you'll find:

An introduction to revive your love of the animals we all adore and admire
Forty-five original black-and-white designs for you to color on single-sided perforated pages
Forty-five full-color versions of the designs to inspire and guide you while coloring
These creatures are guaranteed to provide hours of adventurous creativity—whether you're getting comfy indoors or taking a break in the great outdoors. The possibilities are endless as you apply your own imaginative palette to these delightful designs. Gather your colored pencils and go wild!
About the Author
---
At Skyhorse Publishing, we recognize the need at times to simply Be. Our broad range of books offer readers an escape from the daily grind to the virtual worlds of the many stories our authors tell. But how about escaping even more deeply? That's where Adult Coloring Books come in, and here is where we are dedicating ourselves to bringing you a variety of coloring books with which you can relax and lose yourselves into a meditation of creative self-expression. We invite you to check out our assorted series of Adult Coloring Books, and know that you'll find exactly what you need to bliss out.