Incurable Me: Why the Best Medical Research Does Not Make It into Clinical Practice (Hardcover)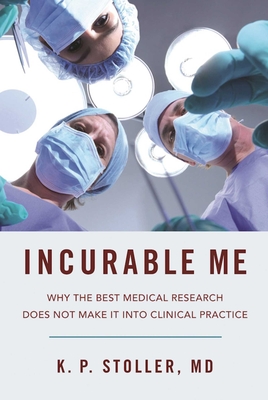 Description
---
In Incurable Me, a maverick physician brings transparency to some of medicine's most closely guarded secrets. As he establishes a link between commerce and medical research, K. P. Stoller also explains how to treat some of the most worrisome diseases and conditions afflicting humans today—including Lyme disease, brain trauma, dementia, and autism.
Dr. Stoller maintains that the best evidence in medical research is not incorporated into clinical practice unless the medical cartel has the potential to make large amounts of money promoting the results of the research. Stoller takes his provocative argument a step further, maintaining that if specific research conflicts with a powerful entity's financial interests, the likely result will be an effort to suppress or distort the results. Stoller cites numerous examples, including corporate influence on GMO labeling and public health.
Stoller also explores how "revolving-door-employment" between the Centers for Disease Control and large pharmaceutical companies can affect research results—as well as our health. Written in an accessible style that is thoroughly appropriate for a lay audience, Incurable Me is a must-read for anyone interested in the state of modern medicine.
About the Author
---
K. P. Stoller, MD, completed his training at the University of California at Los Angeles School of Medicine in 1986 and was a practicing board certified-pediatrician for over two decades, focusing on brain-injured children and adults. Dr. Stoller's area of expertise is functional medicine, also known as integrative medicine. He is chief of hyperbaric medicine at the Hyperbaric Oxygen Clinic of San Francisco and editor of Medical Gas Research. He has published numerous articles on using hyperbaric oxygen to treat brain injuries. He lives in the San Francisco Bay area.
Praise For…
---
"Incurable Me embodies all that is Dr. Stoller's 'wandering but not lost' ethos as a healer. His many examples from the trenches show how corporatization of healthcare has left many good ideas out of our healers hands. It is a testament to the role of pioneers like him among all of us, searching for more information in improving our own biological lot in life. Our national discourse needs this voice as more of our political apparatus is run by corporate money proxy from those who's market is your body rather than your vote. There is much in the book that will awaken the curious to the neo-feudal prerogative of the powerful in this world."
— Edward "Ted" Fogarty, M.D., Chair, Department of Radiology, UND School of Medicine and Health Sciences

"They say that hindsight is 20/20. That's certainly true of our current understanding of notoriously bad medical treatments from yesteryear. Remember bloodletting? Leaches? Lobotomies? But what about today's medical treatments? What will our children and grandchildren look back on and ask, 'How could those people have been so blind?' Thanks to K.P. Stoller, MD, we don't have to wait 50 years to find out."
—Brett Wilcox, author of Jabbed: How the Vaccine Industry, Medical Establishment, and Government Stick it to You and Your Family

"Incurable Me embodies all that is Dr. Stoller's 'wandering but not lost' ethos as a healer. His many examples from the trenches show how corporatization of healthcare has left many good ideas out of our healers hands. It is a testament to the role of pioneers like him among all of us, searching for more information in improving our own biological lot in life. Our national discourse needs this voice as more of our political apparatus is run by corporate money proxy from those who's market is your body rather than your vote. There is much in the book that will awaken the curious to the neo-feudal prerogative of the powerful in this world."
— Edward "Ted" Fogarty, M.D., Chair, Department of Radiology, UND School of Medicine and Health Sciences

"They say that hindsight is 20/20. That's certainly true of our current understanding of notoriously bad medical treatments from yesteryear. Remember bloodletting? Leaches? Lobotomies? But what about today's medical treatments? What will our children and grandchildren look back on and ask, 'How could those people have been so blind?' Thanks to K.P. Stoller, MD, we don't have to wait 50 years to find out."
—Brett Wilcox, author of Jabbed: How the Vaccine Industry, Medical Establishment, and Government Stick it to You and Your Family