Adam's Task: Calling Animals by Name (Paperback)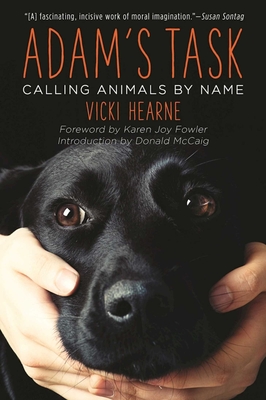 $17.99
Email or call for price
Description
---
A groundbreaking meditation on our human-animal relationships and the moral code that binds it.

Adam's Task, Vicki Hearne's innovative masterpiece on animal training, brings our perennial discussion of the human-animal bond to a whole new metaphysical level. Based on studies of literary criticism, philosophy, and extensive hands-on experience in training, Hearne asserts, in boldly anthropomorphic terms, that animals (at least those that interact more with humans) are far more intelligent than we assume. In fact, they are capable of developing an understanding of "the good," a moral code that influences their motives and actions.

Drawing on an eclectic range of influences—Nietzsche, T. S. Eliot, Disney animal trainer William Koehler, and Genesis from the Bible, among others—Hearne writes in contemplative, exploratory, and brilliant prose as she interweaves personal anecdotes with philosophy. Hearne develops an entirely new system of animal training that contradicts modern animal behavioral research and that, as her examples show, is astonishingly effective.

Widely praised, highly influential, and now with a new foreword by New York Times bestselling author Karen Joy Fowler, Adam's Task will make every trainer, animal psychologist, and animal-lover stop, think, and question.
About the Author
---
Vicki Hearne was an accomplished scholar of linguistics, literature, philosophy, and behavioral psychology as well as a poet. She was a professor at Yale University and operated a dog-training school for years in Westbrook, Connecticut.

Donald McCaig, the author of Jacob's Ladder, Rhett Butler's People, and Canaan. He and his wife, Anne, work a sheep farm in the western mountains of Virginia.

Karen Joy Fowler is a New York Times' bestselling author of six novels, including The Jane Austen Book Club and We Are Completely Beside Ourselves, which was shortlisted for the 2014 Man Booker Prize. She lives in Santa Cruz, California.
Praise For…
---
"[A] fascinating, incisive work of moral imagination." —Susan Sontag

"When Ms. Hearne relates a dog or horse story, the animals become full-fledged characters, as brightly delineated as people created by Dickens or Twain. . . . [Her] passion for her subject, along with her eclectic intelligence and technical expertise, succeeds in making even the most skeptical reader re-evaluate his relationship with animals and his preconceptions about communication. . . . Adam's Task stands as a most intriguing and original book." —Michiko Kakutani, New York Times

"There is no finer book than this one about the way language entwines humans and animals." —Audubon Magazine

"A beautiful, wonderful book . . . that permanently refreshes thought and feeling." —Boston Globe

"As witty, wise and rare a book as has come along in some time." —San Francisco Chronicle

"This wonderful book will become essential to anyone who chooses to live with a horse, dog, or cat." —David Leavitt

"A fascinating and often surprising discussion of animal-human encounters." —Atlantic Monthly

"This engrossing treatise on animal behavior and interspecies communication provides an astute and possibly unique synthesis of a domestic animal trainer's practical knowledge and the intellectually more distant and even sterile theories of the academic world." —Library Journal

"Through luminous anecdotes, she . . . develops rigorous and beautiful descriptions of the transactions between animals and people, what they entail, and what the expectations—on both sides—are." —Publishers Weekly

"[A] fascinating, incisive work of moral imagination." —Susan Sontag

"When Ms. Hearne relates a dog or horse story, the animals become full-fledged characters, as brightly delineated as people created by Dickens or Twain. . . . [Her] passion for her subject, along with her eclectic intelligence and technical expertise, succeeds in making even the most skeptical reader re-evaluate his relationship with animals and his preconceptions about communication. . . . Adam's Task stands as a most intriguing and original book." —Michiko Kakutani, New York Times

"There is no finer book than this one about the way language entwines humans and animals." —Audubon Magazine

"A beautiful, wonderful book . . . that permanently refreshes thought and feeling." —Boston Globe

"As witty, wise and rare a book as has come along in some time." —San Francisco Chronicle

"This wonderful book will become essential to anyone who chooses to live with a horse, dog, or cat." —David Leavitt

"A fascinating and often surprising discussion of animal-human encounters." —Atlantic Monthly

"This engrossing treatise on animal behavior and interspecies communication provides an astute and possibly unique synthesis of a domestic animal trainer's practical knowledge and the intellectually more distant and even sterile theories of the academic world." —Library Journal

"Through luminous anecdotes, she . . . develops rigorous and beautiful descriptions of the transactions between animals and people, what they entail, and what the expectations—on both sides—are." —Publishers Weekly