The Communist Manifesto: & Selected Writings (Hardcover)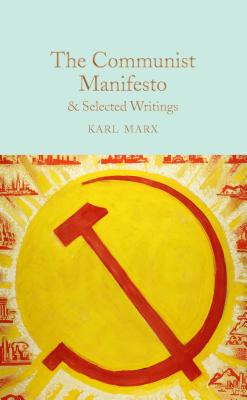 Description
---
Designed to appeal to the book lover, the Macmillan Collector's Library is a series of beautifully bound pocket-sized gift editions of much loved classic titles. Bound in real cloth, printed on high quality paper, and featuring ribbon markers and gilt edges, Macmillan Collector's Library are books to love and treasure.

Karl Marx's Communist Manifesto, first printed just before the French revolution of 1848, is his most accessible and famous work. In his powerful call to arms, Marx expounds his famous theory that class struggle is the real determinant of historical change.

Next in this volume comes his treatise, Wages, Price and Profit, written in 1865, which serves as an accessible introduction to the ideas which Marx went on to develop in Capital, his masterful, multi volume analysis of how the world was irreversibly changed by the industrial revolution.

This Macmillan Collector's Library edition contains the most salient extracts from his great work, selected and introduced by Hugh Griffith.

Whilst old-style Marxism is now dead and buried, today's conflicts within capitalism are as sharp as ever and Marx's brilliant, painstaking writings remain disturbingly relevant.
About the Author
---
Karl Marx was born in the German city of Trier in 1818. He studied law in Bonn and Berlin at his father's insistence, but his true interests lay elsewhere and, in 1841, he received a doctorate in philosophy from the University of Jena. For the next two years he wrote for radical left-wing newspapers before moving to Paris with his wife, Jenny; there he became a communist and met his lifelong friend and collaborator, Friedrich Engels. They published their revolutionary pamphlet, The Communist Manifesto, in 1848 and Marx moved to London a year later. He spent the rest of his life there - often in considerable poverty - while he wrote his magnum opus of political theory, Das Kapital. Karl Marx died in 1883.