We Slaves of Suriname (Paperback)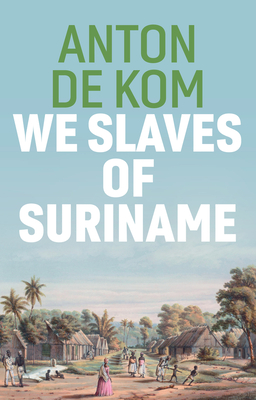 Description
---
Anton de Kom's We Slaves of Suriname is a literary masterpiece as well as a fierce indictment of racism and colonialism. In this classic book, published here in English for the first time, the Surinamese writer and resistance leader recounts the history of his homeland, from the first settlements by Europeans in search of gold through the era of the slave trade and the period of Dutch colonial rule, when the old slave mentality persisted, long after slavery had been formally abolished.
159 years after the abolition of slavery in Suriname and 88 years after its initial publication, We Slaves of Suriname has lost none of its brilliance and power.
About the Author
---
Anton de Kom was a leading advocate of Surinamese independence from Dutch colonial rule. Born in Paramaribo, Suriname, on February 22, 1898, he was banished by the colonial authorities in 1933; he wrote We Slaves of Suriname from exile in the Netherlands, where it was first published in 1934. When World War II broke out, De Kom joined the Dutch resistance; he was arrested by the Germans in 1944 and deported to the Neuengamme concentration camp, where he died on April 24, 1945. In June 2020, Anton de Kom was added to the Dutch national core curriculum for history education (the Canon of the Netherlands) because of his central role in opposing racism and colonialism.