Day Trading 101: From Understanding Risk Management and Creating Trade Plans to Recognizing Market Patterns and Using Automated Software, an Essential Primer in Modern Day Trading (Adams 101 Series) (Hardcover)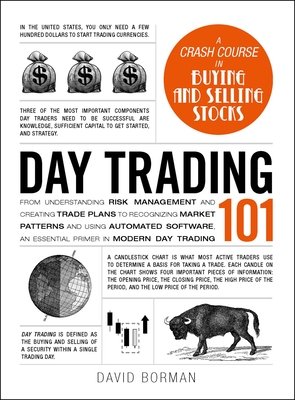 $15.99

Usually Ships in 1-5 Days
Description
---
A comprehensive guide to day trading, with prescriptive information and actionable advice to help you achieve financial success.

It may seem that day trading is only for savvy investors who know the ins and outs of the marketplace—but it doesn't have to be. All it takes is the right information and staying on top of the market.

Day Trading 101 simplifies all the terms, strategies, and processes involved in day trading, helping even the most novice investor find financial success. With information on recognizing trading patters, mastering trading options, keeping tabs on the market, establishing strategies to make the most profit, and understanding trading lingo, this guide can get you on track to becoming a smart investor. Full of expert advice on the best paths to trading success, Day Trading 101 leaves no stone unturned, and no trading option undiscovered.
About the Author
---
David Borman has been involved in the financial markets and trading since 1999. He has professionally worked at Deutsche Bank, Merrill Lynch, TCM Custom House, Morgan Stanley, and Phillip Capital. He has been exposed to the trading and day trading of mutual funds, stocks, ETFs, Leveraged ETFs, Commodities, and Derivatives. He has worked right alongside the Risk Management Desk of a Singapore Based Futures Commission Merchant, where fifty million dollar margin calls were a daily occurrence. Within his own account, he has traded extensively using ETFs, precious metals, and currencies. He holds a BS in finance from Southern Illinois University, and a masters in accounting from DePaul University, and is working on his PhD in financial management from Northcentral University. When not trading, David finds the time shop for treasures at local antique shops. He is the author of Day Trading 101.