Painless Calculus (Barron's Painless) (Paperback)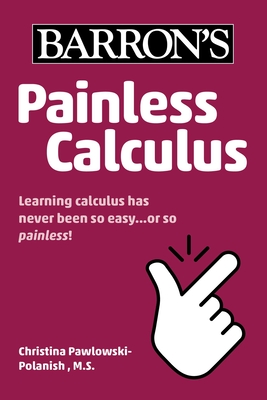 $16.99

Usually Ships in 1-5 Days
Description
---
Whether you're a student or an adult looking to refresh your knowledge, Barron's Painless Calculus provides review and practice in an easy, step-by-step format.An essential resource for:
Virtual Learning
Homeschool
Learning pods
Supplementing classes/in-person learning
Inside you'll find:
Examples of all topics, including limits and continuity, derivatives, curve sketching, definite integrals, and much more
Diagrams, charts, and instructive math illustrations
Painless tips and common pitfalls
Math talk boxes that translate complex "math speak" into easy-to-understand language
Brain Tickler quizzes throughout each chapter to test your progress
 
About the Author
---
About the Author
Christina Pawlowski
Old Bethpage, NY

Christina Pawlowski earned a M.S. in applied Mathematics and a B.A. in Mathematics and Mathematics Education from Hofstra University. She currently teaches high school math, including AP Calculus. Pawlowski is a New York State Master Teacher, a program that celebrates the work of the highest-performing STEM teachers by establishing an expert community dedicated to developing expertise in the areas of content, pedagogy, and students' families and communities. She has won numerous awards, including the NYS Empire State Excellence in Teaching Award, and was a finalist for the Presidential Award for Excellence in Mathematics and Science Teaching.

About the Publisher
In the 1930s, Manuel H. Barron opened a bookstore in Brooklyn, New York. 

People from the community asked Mr. Barron about books that might be available to help their children study for the New York State Regents exams. After realizing there wasn't anything available, Mr. Barron created his own study guides.

80 years later, Barron's has helped millions of people prepare for their next step.