Painless Pre-Algebra (Barron's Painless) (Paperback)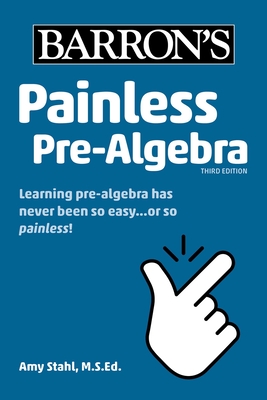 $16.99

Usually Ships in 1-5 Days
Description
---
Whether you're a student or an adult looking to refresh your knowledge, Barron's Painless Pre-Algebra provides review and practice in an easy, step-by-step format.Perfect for:
Virtual Learning
Homeschool
Learning pods
Inside you'll find:
Clear examples for all topics, including exponents and scientific notation, graphing, linear equations, functions, and much more
Diagrams, charts, and instructive math illustrations
Painless tips, common pitfalls, and math talk boxes that translate complex "math speak" into easy-to-understand language
Brain Tickler quizzes throughout each chapter to test your progress
About the Author
---
About the Author
Amy Stahl, M.S. Ed.
Victor, NY
Amy Stahl  is currently a math tutor for grades 7-12 at Straight A Coaching in Pittsford, NY. She has almost 20 years of classroom teaching experience and has published two math review books. She lives in Victor, NY with her husband and two sons.

About the Publisher
In the 1930s, Manuel H. Barron opened a bookstore in Brooklyn, New York. 

People from the community asked Mr. Barron about books that might be available to help their children study for the New York State Regents exams. After realizing there wasn't anything available, Mr. Barron created his own study guides.

80 years later, Barron's has helped millions of people prepare for their next step.