Painless Writing (Barron's Painless) (Paperback)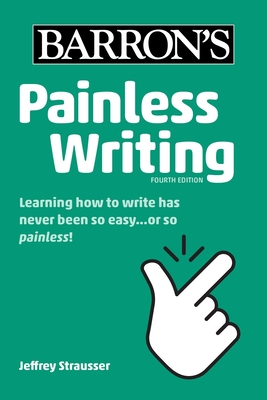 for information about purchasing this book, please contact orders@bookpassage.com
Description
---
Whether you're a student or an adult looking to refresh your knowledge, Barron's Painless Writing provides review and practice in an easy, step-by-step format.Perfect for:
Virtual Learning
Homeschool
Learning pods
Inside you'll find:
Comprehensive instruction, including information on expressing your thoughts clearly, enlivening your writing with vivid images, avoiding the dull, passive voice, and much more
Painless writing techniques with sample writing passages, painless tips, common pitfalls, and instructive tables
Brain Tickler quizzes and answers throughout each chapter to test your progress
About the Author
---
About the Author
Jeff Strausser is an author, a playwright, and a freelance writer. His short stories have been published in various literary journals, and his articles regularly appear in magazines and online journals. He has published four books for middle school and high school students and has written more than forty plays that have been produced in theaters throughout the United States, England, and Australia.
 
About the Publisher
In the 1930s, Manuel H. Barron opened a bookstore in Brooklyn, New York. 

People from the community asked Mr. Barron about books that might be available to help their children study for the New York State Regents exams. After realizing there wasn't anything available, Mr. Barron created his own study guides.

80 years later, Barron's has helped millions of people prepare for their next step.