Phrasal Verbs (Barron's ESL Proficiency) (Paperback)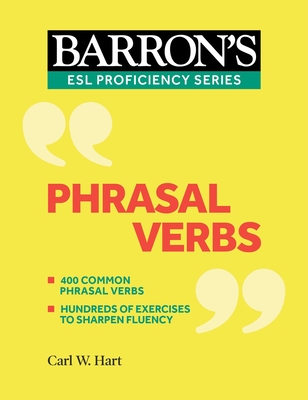 $18.99
Email or call for price
Description
---
The new Barron's ESL Proficiency Series is designed to help intermediate language students jumpstart their learning and achieve greater proficiency! This self-study guide can be used independently or as a classroom supplement.

Unique to the market, Barron's ESL Proficiency Series; Phrasal Verbs presents over 400 of the most useful phrasal verbs in English with a focus on both structure and practice. The hundreds of examples contained in this book are always presented in context and are accompanied by carefully-constructed exercises for students to test their mastery. 

The ESL Profiency Series is a valuable tool for ESL teachers, tutors and learners who want to advance their English language skills for work, school or to prepare for proficiency tests such as TOEFL, IELTS,  or TOEIC. It is ideal for independent study.
About the Author
---
About the Author
Carl W. Hart has over 30 years of experience teaching English as a Second Language. He has taught at U.S. colleges (Valparaiso University, Valparaiso, IN) and language schools. His career has also taken him to Guadalajara, Mexico (Instituto Tecnológico y de Estudios Superiores de Monterrey), Equatorial Guinea, United Arab Emirates, and Saudi Arabia where he currently teaches advanced grammar and culture to Saudi students preparing to come to the US. Carl has a B.A. in History from University of Illinois, a B.A. in Communications from Columbia College in Chicago and an M.A. in Linguistics/TEFL from Northeastern Illinois University. He is the author of nine books related to English language learning and instruction.

About the Publisher 

In the 1930s, Manuel H. Barron opened a bookstore in Brooklyn, New York. 

People from the community asked Mr. Barron about books that might be available to help their children study for the New York State Regents exams. After realizing there wasn't anything available, Mr. Barron created his own study guides.

80 years later, Barron's has helped millions of people prepare for their next step.