AP Q&A Psychology: 600 Questions and Answers (Barron's Test Prep) (Paperback)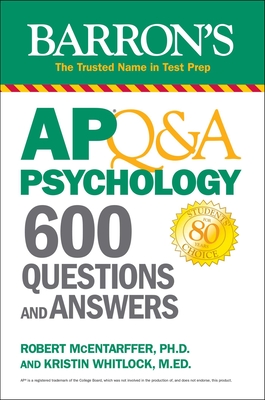 $21.99
Email or call for price
Description
---
Be prepared for exam day with Barron's. Trusted content from AP experts!

Barron's AP Q&A Psychology features 600 questions with answer explanations designed to sharpen your critical thinking skills, provide practice for all AP question types, and maximize understanding of the concepts covered on the AP exam.Why Study with AP Q&A?
Each of the 600 questions is based on a qualitative analysis of hundreds of past AP Psychology exam questions. This analysis produced six unique categories of test questions available nowhere else! 
All questions are keyed to the units designated in the AP Psychology course curriculum and these 6 unique categories.
Answers include comprehensive explanations--you won't just learn why an answer is correct, you'll learn why the other choices are incorrect
Check out Barron's AP Psychology Premium for even more review, full-length practice tests, and access to Barron's Online Learning Hub for a timed test option and automated scoring.
About the Author
---
Rob McEntarffer taught AP Psychology at Lincoln Southeast High School in Lincoln, NE for over 13 years and Introductory Psychology at Nebraska Wesleyan University for over 7 years. He earned a B.S. in teaching of psychology at the University of Nebraska, a master's degree in educational psychology, and a Ph.D. in education. He has extensive experience in scoring the Advanced Placement Psychology free-response questions, having served as a Reader, Table Leader, and as the high school Question Leader. He is past chair of the national organization Teachers of Psychology in Secondary Schools, worked with the committee on the National Standards for the Teaching of High School Psychology, and is involved in writing assessment materials for high school and college level introductory psychology textbooks. He works as an assessment specialist for his school district.

Kristin H. Whitlock has been teaching AP Psychology since 1992. She currently teaches at Davis High School in Kaysville, Utah and is an adjunct psychology instructor at Weber State University. She earned a B.S. and master's degree at the University of Utah. She has wide-ranging experience with the AP Psychology program including serving as a Reader, a Table Leader, a Question Leader over rubric development, and currently as a high school Question Leader. She has also served as a member of the AP Psychology Test Development Committee and as the College Board Advisor to the Test Development Committee. Kristin is the past chair of the American Psychological Association's Teachers of Psychology in Secondary Schools and has served as chair of the APA's National Standards for the Teaching of High School Psychology Committee, as well as serving on the Steering Committee for the APA's Summit on High School Psychology Education. She is currently on the Steering Committee of the APA's Introductory Psychology Initiative. Kristin has authored and co-authored numerous articles and other materials for introductory psychology textbooks.

About the Publisher
In the 1930s, Manuel H. Barron opened a bookstore in Brooklyn, New York. 

People from the community asked Mr. Barron about books that might be available to help their children study for the New York State Regents exams. After realizing there wasn't anything available, Mr. Barron created his own study guides.

80 years later, Barron's has helped millions of people prepare for their next step.