John Fisher and Thomas More: Keeping Their Souls While Losing Their Heads (Hardcover)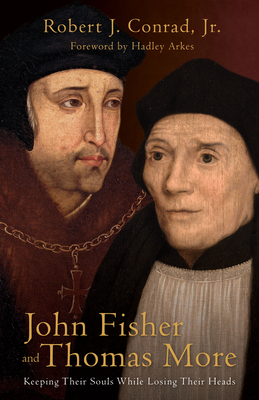 $24.95

Usually Ships in 1-5 Days
Description
---
In 1929, nearly four hundred years after the deaths of Saints Thomas More and John Fisher, G.K. Chesterton observed in words equally attributable to Fisher, "Blessed Thomas More is more important at this moment than at any moment since his death, even perhaps the great moment of his dying; but he is not quite so important as he will be in a hundred years."
Judge Robert J Conrad, Jr. anticipates Chesterton's one-hundred-year mark in a collection of stories from the lives of More and Fisher, demonstrating how their sanctity and integrity carried them and those who loved them through tumultuous and heart-wrenching times which, perhaps surprisingly, bear a striking resemblance to the present epoch.
At first blush, nothing could appear more different than the pre-industrial sixteenth century and the tech-centered modern era. But a closer examination presents a similar tale of political maneuvering and hostile hearings, legal corruption, viral pandemics, riots, suppression of speech, loss of religious liberty, and a profound indifference for truth. Judge Conrad effortlessly weaves together tales of both men and what made them who they were--family, faith, friendship, oaths, vocation, detachment, conscience--inviting those who strive for holiness down the same narrow path these two martyrs walked with a clarity founded upon the truth of Christ's Church, and a wit that charmed even their persecutors.
Both these men refused to consent to the theological farce that would permit the king's divorce and remarriage and drive a wedge into the unity of the Christian world, and both paid for their convictions with their lives. More died the king's good servant and God's first. Fisher approached his execution with joy befit for a wedding. And yet, both stand today, long after they are gone, as models of courage in a time when it is desperately needed.
Discover in this volume of powerful stories two saints whose lives could not be timelier for the present age.

About the Author
---
Robert J. "Bob" Conrad Jr is a trial judge, ex-federal prosecutor, former ACC college basketball player, father, grandfather, coach, mentor, teacher, and amateur historian who examines the lives of John Fisher and Thomas More with a trial lawyer's love for advocacy, and an Irishman's love for a well-told story. He brings to life Thomas More and John Fisher's example of fidelity to a well-formed conscience, vision of eternal life with God, and willingness to die rather than submit to a raw exercise of royal power. The father of five children and grandfather to ten (at last count), Judge Conrad hopes that the lessons he learned from More and Fisher might resonate with his family and the readers of this work.