Demons Don't Dream (Xanth Novels #16) (Paperback)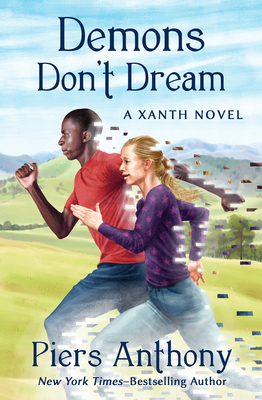 $26.99

Usually Ships in 1-5 Days
Other Books in Series
This is book number 16 in the Xanth Novels series.
Description
---
"Series fans will find themselves right at home" as a computer game draws two players into the illusion-, pun-, and dragon-filled land of Xanth (Kirkus Reviews).
Sixteen-year-old Dug has yet to be impressed by a computer game, but that's before he gets hooked by Companions of Xanth-and the beguilingly beautiful princess-serpent he's chosen to guide him. Nada Naga has her work cut out for her keeping Dug's eyes on the magical prize . . . and off of her human form.
Kim is no stranger to Xanth, which is why she chooses her favorite companion, Jenny Elf, to accompany her through its marvels-and dangers. Though Kim's hyper-enthusiasm is infectious, she doesn't really believe that Xanth is real, and it's up to Jenny to prove it.
What the two players don't know is that there's more at stake than winning; the very existence of Xanth hangs in the balance. Demons may run the game, but there are voids to avoid, loan sharks to outswim, and Com Pewter-the most evil machine of all-to outwit. Not to mention that a companion may be just as willing to sabotage Dug and Kim as help them succeed . . .
"The legions of Xanth readers can rest assured that Demons Don't Dream] contains plenty of the punningly named animals, vegetables, people and things (such as the Ice Queen Clone and the Censor-Ship) that have become the series' raison d'etre." -Publishers Weekly
About the Author
---
Piers Anthony has written dozens of bestselling science fiction and fantasy novels. Perhaps best known for his long-running Magic of Xanth series, many of which are New York Times bestsellers, he has also had great success with the Incarnations of Immortality series and the Cluster series, as well as Bio of a Space Tyrant and others. Much more information about Piers Anthony can be found at www.HiPiers.com.