Defending the Public's Enemy: The Life and Legacy of Ramsey Clark (Hardcover)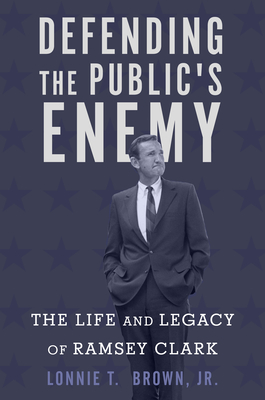 $35.00

Usually Ships in 1-5 Days
Description
---
What led a former United States Attorney General to become one of the world's most notorious defenders of the despised? Defending the Public's Enemy examines Clark's enigmatic life and career in a quest to answer this perplexing question.
The culmination of ten years of research and interviews, Lonnie T. Brown, Jr. explores how Clark evolved from our government's chief lawyer to a strident advocate for some of America's most vilified enemies. Clark's early career was enmeshed with seminally important people and events of the 1960s: Martin Luther King, Jr., Watts Riots, Selma-to-Montgomery March, Black Panthers, Vietnam. As a government insider, he worked to secure the civil rights of black Americans, resisting persistent, racist calls for more law and order. However, upon entering the private sector, Clark seemingly changed, morphing into the government's adversary by aligning with a mystifying array of demonized clients--among them, alleged terrorists, reputed Nazi war criminals, and brutal dictators, including Saddam Hussein.
Is Clark a man of character and integrity, committed to ensuring his government's adherence to the ideals of justice and fairness, or is he a professional antagonist, anti-American and reflexively contrarian to the core? The provocative life chronicled in Defending the Public's Enemy is emblematic of the contradictions at the heart of American political history, and society's ambivalent relationship with dissenters and outliers, as well as those who defend them.
About the Author
---
Lonnie T. Brown, Jr. is the A. Gus Cleveland Distinguished Chair of Legal Ethics and Professionalism at the University of Georgia School of Law. He specializes in legal ethics and civil procedure, and speaks and publishes widely in the area of legal ethics in the adversary process.