Unfinished Spirit: Muriel Rukeyser's Twentieth Century (Hardcover)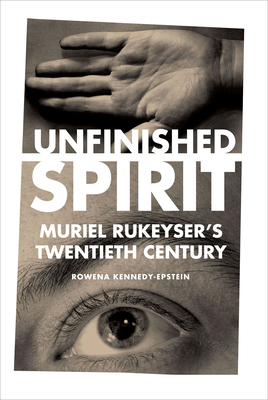 $32.95

Usually Ships in 1-5 Days
Description
---
In Unfinished Spirit, Rowena Kennedy-Epstein brings to light the extraordinary archive of Muriel Rukeyser's (1913-1980) unpublished and incomplete literary works, revealing the ways in which misogyny influences the kinds of texts we read and value. Despite her status today as an influential poet, much of Rukeyser's critical and feminist writing remained unfinished, suppressed by the sexism of editors, political censure, the withdrawal of funding and publishing contracts, as well the conditions of single motherhood and economic precarity.
From Savage Coast, her novel of the Spanish Civil War (which Kennedy-Epstein recovered, edited, and published to great acclaim in 2013) to her photo-text collaboration with Berenice Abbott, essays on women writers, radio scripts, and biographies, Unfinished Spirit traces the creation, reception, and rejection of Rukeyser's most ambitious texts--works that continued the radical, avant-garde project of modernism and challenged an increasingly hegemonic Cold War culture. Bound together by Rukeyser's radical vision of artistic creation and political engagement, these incomplete texts open a space to theorize the politics of the unfinished for understanding women's artistic production, reasserting the importance of the archive as a primary site of feminist criticism.
About the Author
---
Rowena Kennedy-Epstein is Associate Professor of Gender Studies and Twentieth- and Twenty-First-Century Women's Writing at the University of Bristol. She recovered and edited Muriel Rukeyser's novel, Savage Coast. She is the author of the forthcoming Rukeyser biography Mother of Us All and is also coediting a volume of Rukeyser's selected prose. Follow her on Twitter at @rowena_k_e.