Driven: The Race to Create the Autonomous Car (Paperback)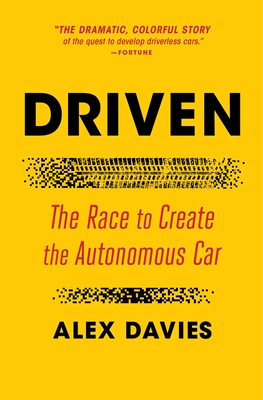 $18.00

Usually Ships in 1-5 Days
Description
---
Alex Davies tells the "illuminating and important narrative" (Steven Levy, author of Facebook: The Inside Story) of the quest to develop driverless cars—and the fierce competition between Google, Uber, and other companies in a race to revolutionize our lives.

The self-driving car has been one of the most vaunted technological breakthroughs of recent years. But early promises that these autonomous vehicles would soon be on the roads have proven premature. Alex Davies follows the twists and turns of the story from its origins to today.

The story starts with the Defense Advanced Research Projects Agency (DARPA), which was charged with developing a land-based equivalent to the drone, a vehicle that could operate in war zones without risking human lives. DARPA issued a series of three "Grand Challenges" that attracted visionaries, many of them students and amateurs, who took the technology from Jetsons-style fantasy to near-reality. The young stars of the Challenges soon connected with Silicon Valley giants Google and Uber, intent on delivering a new way of driving to the civilian world.

Soon the automakers joined the quest, some on their own, others in partnership with the tech titans. But as road testing progressed, it became clear that the challenges of driving a car without human assistance were more formidable than anticipated.

Davies profiles the industry's key players from the early enthusiasm of the DARPA days to their growing awareness that while this spin on artificial intelligence isn't yet ready for rush-hour traffic, driverless cars are poised to remake how the world moves. Driven explores "the epic tale of competition and comradery, long odds and underdogs, all in service of a world-changing moonshot" (Andy Greenberg, author of Sandworm: A New Era of Cyberwar).
About the Author
---
Alex Davies is a senior editor at Insider, where he oversees the transportation coverage. He was formerly an editor at WIRED, where he launched the transportation section in 2016. Along with autonomous vehicles, he has covered everything from designing bike lanes to electric aviation to the quest to rebuild American infrastructure. Mr. Davies has written features about how General Motors beat Tesla in the race to build the affordable, long-range electric car, the nascent flying car industry, and X, Alphabet's "moonshot factory." A New Yorker by birth, Mr. Davies has lived in California's Bay Area since 2014.
Praise For…
---
"With Alex Davies' superb book, we learn that autonomous cars are far from driverless: the amazing effort to produce them has been directed by a cast of brilliant, and sometimes flawed human beings, all of whom are compellingly rendered in this illuminating and important narrative. Read Driven, preferably not while behind the wheel."

— Steven Levy, author of Hackers and Facebook: The Inside Story

"In Driven, Business Insider senior editor Alex Davies tells the dramatic, colorful story of the quest to develop driverless cars—and the fierce competition among Google, Uber, and other tech and auto giants in the race to revolutionize our lives."
— Fortune

"A highly readable and engaging narrative that showcases the brilliant, passionate and intensively competitive group of innovators who shepherded the self-driving car from its origins at the DARPA Grand Challenge and then set out to build an entirely new industry that would race toward making the technology a reality."
— Martin Ford, New York Times bestselling author of Rise of the Robots and Architects of Intelligence

"An epic tale of competition and comradery, long odds and underdogs, all in service of a world-changing moonshot. Driven is the The Right Stuff for robotic cars."
— Andy Greenberg, author of Sandworm: A New Era of Cyberwar and the Hunt for the Kremlin's Most Dangerous Hackers and This Machine Kills Secrets

"The autonomous car has become a fixture of every conversation we seem to have about the future of transit. Alex Davies' illuminating — and surprisingly fun — new book Driven connects the key events of the last two decades, from a wild contest thrown by DARPA in the desert to the halls of Silicon Valley's disruption-crazed tech giants, to show us exactly why we're talking that way."
— Brian Merchant, author of The One Device: The Secret History of the iPhone

"The author's excitement for his subject translates vividly across pages of racing details and participants' blueprints for success. . . . A timely, focused, and thorough examination of a global engineering marvel that is very much still in the works."
— Kirkus Reviews

"A fast-paced, scandal-laced story of the people and ideas that animate the history of autonomous vehicles. . . . A powerful fable of technological hubris."

— Undark