The End of Craving: Recovering the Lost Wisdom of Eating Well (Hardcover)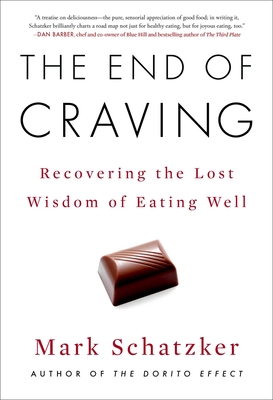 Description
---
The international bestseller from award-winning writer Mark Schatzker that reveals how our dysfunctional relationship with food began—and how science is leading us back to healthier living and eating.

For the last fifty years, we have been fighting a losing war on food. We have cut fat, reduced carbs, eliminated sugar, and attempted every conceivable diet only to find that eighty-eight million American adults are prediabetic, more than a hundred million have high blood pressure, and nearly half now qualify as obese. The harder we try to control what we eat, the unhealthier we become. Why?

Mark Schatzker has spent his career traveling the world in search of the answer. Now, in The End of Craving, he poses the profound question: What if the key to nutrition and good health lies not in resisting the primal urge to eat but in understanding its purpose?

Beginning in the mountains of Europe and the fields of the Old South, Schatzker embarks on a quest to uncover the lost art of eating and living well. Along the way, he visits brain scanning laboratories and hog farms, and encounters cultural oddities and scientific paradoxes—northern Italians eat what may be the world's most delicious cuisine, yet are among the world's thinnest people; laborers in southern India possess an inborn wisdom to eat their way from sickness to good health. Schatzker reveals how decades of advancements in food technology have turned the brain's drive to eat against the body, placing us in an unrelenting state of craving. Only by restoring the relationship between nutrition and the pleasure of eating can we hope to lead longer and happier lives.

Combining cutting-edge science and ancient wisdom, The End of Craving is an urgent and radical investigation that "charts a roadmap not just for healthy eating, but for joyous eating, too" (Dan Barber, New York Times bestselling author of The Third Plate).
About the Author
---
Mark Schatzker is an award-winning writer based in Toronto. He is a writer-in-residence at the Modern Diet and Physiology Research Center at Yale University, and a frequent contributor to The Globe and Mail (Toronto), Condé Nast Traveler, and Bloomberg Pursuits. He is the author of The Dorito Effect: The Surprising New Truth about Food and Flavor and Steak: One Man's Search for the World's Tastiest Piece of Beef.
Praise For…
---
PRAISE FOR THE END OF CRAVING:

"With The End of Craving Mr. Schatzker has advanced our understanding of why we have undergone such a rapid transition from fit to fat—and why more carrots are needed and less carrageenan." —The Wall Street Journal

"[A] zippy and fascinating survey. . . .Schatzker supports his case with copious research from the fields of food science, psychology, neuroscience, and behavioral economics. (The quirky anecdotes, such as those about Goethe's travels in Italy, are a nice bonus.) This is a real eye-opener." —Publisher's Weekly

"Mark Schatzker is a rigorous researcher and a masterful storyteller. Unsparing in his indictment of food scientists and the industry at large for peddling food addictions, he is also hopeful in his vision of a way out of our national eating disorder. At its heart, The End of Craving is a treatise on deliciousness—the pure, sensorial appreciation of good food; in writing it, Schatzker brilliantly charts a roadmap not just for healthy eating, but for joyous eating, too." —Dan Barber, chef and co-owner of Blue Hill and New York Times bestselling author of The Third Plate

"A narrative that seriously questions decades-long cherished and cultivated myths behind hedonic eating and diet. This is a meticulous, very well-researched, and thought-out book that is fun to read and important in rethinking lifestyle advices on eating (or aligning these with science-based facts)." —Marc Tittgemeyer, head of the Translational Neurocircuitry Group at the Max Planck Institute for Metabolism Research

"A provocative, optimistic approach to solving our problem with eating too much. By sticking to cutting-edge science and avoiding the diet wars, Schatzker provides a badly needed alternative to unproductive debates over fat vs. carbs, articulating a new—and delicious!—vision of what it means to eat well." —Dr. Alan Levinovitz, PhD, professor of religion at James Madison University and author of Natural and The Gluten Lie

"Engaging, lyrical and brilliantly written, Mark Schatzker takes us on a compassionate journey that explains obesity and our unhealthy relationship with food in a way that has not yet been done. Filled with fascinating scientific stories, surprising facts, and profound insights, The End of Craving reveals the true intuitive intelligence of our brain and body, and the power of real food." —Rachel Herz, author of Why You Eat What You Eat

"You'll devour Mark Schatzker's delicious The End of Craving, which provides a potent and nutritious smorgasbord of understanding that what we eat and how we eat it literally shapes our lives." —William D. Cohan, bestselling author of House of Cards and The Last Tycoons

"The End of Craving is an illuminating look at how changes in our food have left us wanting more yet enjoying less. Grounded in the latest neuroscience research, Mark Schatzker outlines a path to regain control over cravings while re-acquainting ourselves with the pleasures of eating." —Dr. Russell Poldrack, PhD, professor of neuroscience at Stanford University and author of Hard to Break: Why Our Brains Make Habits Stick

PRAISE FOR THE DORITO EFFECT:

"Illuminating and radical." —The New York Times Book Review

"Mark Schatzker's book comes at a time when healthful eating and sustainability are increasingly on everyone's minds. The Dorito Effect is a quick, engaging read that examines the essential role that flavor plays in the way we eat today. As a chef, I know that people want to eat delicious food, but Schatzker goes further and investigates how we engage with flavor to address the growing health crisis." —Daniel Boulud, Chef/Owner, The Dinex Group

"Mark Schatzker has done something monumental in The Dorito Effect, he explained how the American food industry has interfered with our body's conversation with itself. The use of flavor to change this conversation is one of the major reasons for the decline in the American diet leading to major health issues. The Dorito Effect is one of the most important health and food books I have read." —David B. Agus, M.D., author of The End of Illness and A Short Guide to a Long Life

"In The Dorito Effect Mark Schatzker explores a novel - and to my mind, key – theory to explain our increasing consumption of the low-quality food that is undermining health. Modern food production has made much of what we eat flavorless, and a multibillion dollar flavor industry has stepped in to fool our senses, leaving us unsatisfied and craving more and more. I strongly agree with his advice to go back to eating real food." —Dr. Andrew Weil, M.D. New York Times bestselling author of Healthy Aging

"I don't know when this much science has been this fun to read. Brilliant." —Joel Salatin, author of Folks, This Ain't Normal and farmer at Polyface Farm

"After decades of conflict over sugar, carbs and fat, this extremely well researched book journeys to the heart of the food problem—flavor—and delivers the perfect solution." —Dr. Richard Bazinet, Department of Nutritional Sciences, University of Toronto

"If you want to understand why the future of healthy eating is delicious eating, read this book." —Howard Moskowitz, inventor of Prego Extra Chunky Spaghetti Sauce and food industry legend

"Mark Schatzker knows food. He is dedicated to quality and is always looking for the best ingredients. This is an important book that tells us why good food is so essential for everyone." —Bonnie Stern, bestselling author of HeartSmart Cooking for Family and Friends

"A sobering account of humanity's attempt to overcome modern food blandness with flavor compounds, at the expense of nutritional integrity. Schatzker's engaging chronicle of how naturally occurring food flavor is as an evolutionary tuned sensory marker of nutritional value is bound to give consumers and scientists a new perspective on judging food quality and health effects." —Dr. Ameer Taha, Department of Food Science and Technology, UC Davis

"This book is important, possibly life altering for anyone who eats!! In The Dorito Effect, Schatzker gets to the heart of where our relationship with food has gone wrong. Through lively storytelling and proficiency he points out the many issues we are facing and that the solution is right in front of us." —Jonathan Gushue, Principal, Gushue Hospitality Inc.