Goliath: The 100-Year War Between Monopoly Power and Democracy (Hardcover)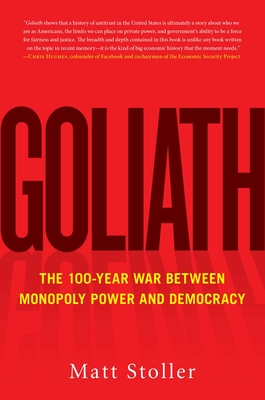 $29.99
Email or call for price
Description
---
A startling look at how concentrated financial power and consumerism transformed American politics, resulting in the emergence of populism and authoritarianism, the fall of the Democratic Party—while also providing the steps needed to create a new democracy.

Americans once had a coherent and clear understanding of political tyranny, one crafted by Thomas Jefferson and updated for the industrial age by Louis Brandeis. A concentration of power, whether in the hands of a military dictator or a JP Morgan, was understood as autocratic and dangerous to individual liberty and democracy. This idea stretched back to the country's founding. In the 1930s, people observed that the Great Depression was caused by financial concentration in the hands of a few whose misuse of their power induced a financial collapse. They drew on this tradition to craft the New Deal.

In Goliath, Matt Stoller explains how authoritarianism and populism have returned to American politics for the first time in eighty years, as the outcome of the 2016 election shook our faith in democratic institutions. It has brought to the fore dangerous forces that many modern Americans never even knew existed. Today's bitter recriminations and panic represent more than just fear of the future, they reflect a basic confusion about what is happening and the historical backstory that brought us to this moment.

The true effects of populism, a shrinking middle class, and concentrated financial wealth are only just beginning to manifest themselves under the current administrations. The lessons of Stoller's study will only grow more relevant as time passes. Building upon his viral article in The Atlantic, "How the Democrats Killed Their Populist Soul," Stoller illustrates in rich detail how we arrived at this tenuous moment, and the steps we must take to create a new democracy.
About the Author
---
Matt Stoller is a Fellow at the Open Markets Institute. Previously, he was a Senior Policy Advisor and Budget Analyst to the Senate Budget Committee. He also worked in the US House of Representatives on financial services policy, including Dodd-Frank, the Federal Reserve, and the foreclosure crisis. He has written for The New York Times, The Washington Post, The New Republic, Vice, and Salon. He lives in Washington, DC. Goliath is his first book.
Praise For…
---
"Goliath is a meticulously researched, powerfully argued and beautifully written book. Every thinking American must read it." —The Washington Book Review

"Deeply researched . . . Insightful." —Farhad Manjoo, The New York Times

"An engaging call to arms at a time when corporate power is increasing and that of the middle class evaporating." —Kirkus

"Goliath shows that a history of antitrust in the United States is ultimately a story about who we are as Americans, the limits we can place on private power, and government's ability to be a force for fairness and justice. The breadth and depth contained in this book is unlike any book written on the topic in recent memory—it is the kind of big economic history that the moment needs." —Chris Hughes, co-founder of Facebook and co-chairman of the Economic Security Project

"Here is the secret history of economic democracy in America. 'Secret' because it's a story that will trouble everyone: conservatives and liberals, Silicon Valley and Big Oil. But it's also a story that gets at the heart of who we were and who we might be again. What Matt Stoller reminds us, in his perceptive and brilliant and at times startling way, is that the desire for economic equality is utterly American; that it is one of the oldest of American political traditions; and that in a slightly altered context, the people we love to scorn as "populists" might have proven even more radical than the wokest activist in the #Resistance." —Thomas Frank, author of What's the Matter with Kansas?

"Goliath is an impressive and fun book telling the long-forgotten but critical history of how freedom, not just from coercive government but from coercive corporate monopolies, is an essential part of American business." —Jeremy Stoppelman, CEO of Yelp

"Imaginatively researched, cogently argued, and consistently engaging, Matt Stoller's Goliath persuasively restores the antimonopoly tradition to its rightful place in the twentieth-century moral imagination. If you are concerned about the enormous power politically unaccountable corporations wield in everyday life, this book will help explain how we got to the fix we are in—and what we can do about it." —Richard R. John, Columbia University and author of Network Nation: Inventing American Telecommunications

"Matt Stoller's Goliath is a remarkable and fun story about corporate power in America. Stoller brings to life pivotal political fights over banks and monopolies, fights that took place in board rooms, in hearing rooms, and in mass protests. Highly recommended." —Henry Waxman, former United States congressman

"Goliath deftly traces the last century of anti-monopoly politics, identifying the key figures and policy fights that have shaped how America organized its political economy. At a moment when Americans are once again questioning and pushing back against extreme concentrations of private power, Goliath illuminates a history that is critical for understanding how we got here. It couldn't be timelier or more relevant for current debates around the dangers of unchecked corporate power and the future of the Democratic party." —Lina Khan, author of "Amazon's Antitrust Paradox"

"Matt Stoller has written a fascinating, deeply researched and almost hypnotic tale of the often tense relationship between corporate power and democracy. It has obvious parallels to where we are today, and lessons to be learned as we work to once again make democracy work for the people. Stoller's documentation of this lost history is more important than ever as we deal with the effects of the financial crisis and deep-seeded poverty, the growing power of technology companies and the extraordinary gap that exists today between the richest few and everybody else." —Pramila Jayapal, United States congresswoman

"Democrats who seek to revitalize their party would do well to study Matt Stoller's Goliath and incorporate—in a complex and thoughtful manner—its central teachings." —The American Prospect

"Though anti-monopolism has been dormant for decades, the corporate consolidation of this century has given Americans on both sides of the political spectrum reason to wonder if it should be awakened. And Stoller's treatise is a good place to start in thinking through that question." —National Review