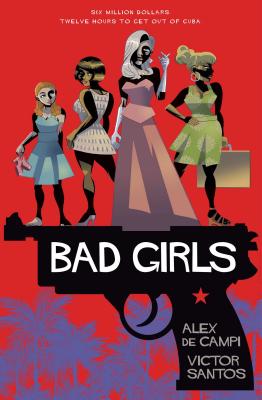 $27.99
Email or call for price
Description
---
NOMINATED FOR THREE EISNER AWARDS, INCLUDING: BEST GRAPHIC ALBUM, BEST WRITER, AND BEST LETTERING

In this heart-pounding, starkly colored, and visually stunning graphic novel, three women have twelve hours to get out of Cuba with six-million dollars on the night of New Year's Eve 1958.

Gangster's moll Carole, jazz singer Taffy, and mambo queen Ana all have their reasons for needing to escape the El Eden Casino in Havana. And on the tumultuous night of New Year's Eve, when Cuban dictator Fulgencio Batista flees the country and the nation falls to Fidel Castro, they get their chance...with the help of six suitcases filled with stolen dirty money. Of course, it's one thing to get the cash...and quite another to get off the island alive.

From the Eisner-nominated writer Alex de Campi and virtuoso artist Victor Santos, this story of three strong and multifaceted women struggling to leave their pasts behind in a tension-filled getaway is timely, fast-paced, and gripping.
About the Author
---
Alex de Campi is best known for her critically acclaimed teen survival thriller No Mercy and the groundbreaking, digital-native comic Valentine. She was nominated for an Eisner for her first comic work Smoke. Alex also directs music videos, and has worked with acts as diverse as Grand Duchy (Frank Black / Violet Clark), Joan As Police Woman, and Amanda Palmer to the retro-fabulous Puppini Sisters.

Victor Santos has written and illustrated a variety of comics in Spain and France, including Los Reyes Elfos, Pulp Heroes, Young Ronins, Lone in Heaven, and Black Kaiser. In recent years he has begun his American adventures with Demon Cleaner and Zombee, written by Miles Gunter, and Filthy Rich. His last works are the new current series of The Mice Templar, the James Patterson's Witch & Wizard series, and the Godzilla: Kingdom of Monsters series. He has won several awards. He lives in Bilbao, Spain.
Praise For…
---
"[A] fierce thriller….de Campi delivers a script packed with righteous femme fatales full of wit and moxie…[and her] masterful writing is punctuated by the coolness of Santos's block shading artwork and moody coloring; simplistic and reminiscent of the pop art style of the 1950s. Readers will revel in this fast-paced noir, embracing both its elegant period detail and pulpy genre roots."

—Publishers Weekly

"De Campi and Santos bring out the best in each other's work. De Campi characteristically excels at psychologically complex characterizations, and never once overburdens readers with padded backstories, or pedantic history lessons. And Santos brings an infectious dynamism to every action scene with clean line work and bold panel layouts that bring to mind formative draftsmen like Jim Steranko, Darwyn Cooke, and Bruce Timm."

—The Village Voice

"Cuba before the fall has long been a subject of interest in [the crime] genre….[and] Alex de Campi and Victor Santos…both partake of this long tradition and turn it on its head….The gorgeous colors and clean lines of this graphic novel complement the stylish storytelling, for a noir comic not to be missed."

—CrimeReads