Betty Ford: First Lady, Women's Advocate, Survivor, Trailblazer (Hardcover)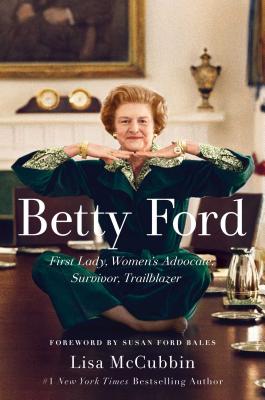 for information about purchasing this book, please contact orders@bookpassage.com
Staff Reviews
---
This is a brilliant biography of the outspoken first lady who followed the very quiet Pat Nixon into the White House. She fervently supported the Equal Rights Amendment. She was pro-choice. She was an advocate for gun control. When she had a mastectomy, she talked about it and brought a hidden subject into the light. In 1982 she spoke of her own addiction to alcohol and prescription drugs. She was the founder of the Betty Ford Center which has revolutionized treatment for addiction. And she did it all with humor, courage and deep devotion. —Elaine
— From
Elaine and Luisa's Picks: September - October 2018
Description
---
From the #1 New York Times bestselling author of Five Presidents and The Kennedy Detail comes an "insightful and beautifully told look into the life of one of the most public and admired first ladies" (Publishers Weekly)—Betty Ford.

Betty Ford: First Lady, Women's Advocate, Survivor, Trailblazer is the inspiring story of an ordinary Midwestern girl thrust onto the world stage and into the White House under extraordinary circumstances. Setting a precedent as First Lady, Betty Ford refused to be silenced by her critics as she publicly championed equal rights for women, and spoke out about issues that had previously been taboo—breast cancer, depression, abortion, and sexuality. Privately, there were signs something was wrong. After a painful intervention by her family, she admitted to an addiction to alcohol and prescription drugs. Her courageous decision to speak out publicly sparked a national dialogue, and in 1982, she co-founded the Betty Ford Center, which revolutionized treatment for alcoholism and inspired the modern concept of recovery.

Lisa McCubbin also brings to light Gerald and Betty Ford's sweeping love story: from Michigan to the White House, until their dying days, their relationship was that of a man and woman utterly devoted to one another other—a relationship built on trust, respect, and an unquantifiable chemistry.

Based on intimate in-depth interviews with all four of her children, Susan Ford Bales, Michael Ford, Jack Ford, and Steven Ford, as well as family friends, and colleagues, Betty Ford: First Lady, Women's Advocate, Survivor, Trailblazer is a deeply personal, empathic portrait of an outspoken First Lady, who was first and foremost a devoted wife and mother. With poignant details and rare insight, McCubbin reveals a fiercely independent woman who had a lively sense of humor, unwavering faith, and an indomitable spirit—the true story behind one of the most admired and influential women of our time.
About the Author
---
Lisa McCubbin Hill is an award-winning journalist and New York Times bestselling author. She is the author of the acclaimed biography Betty Ford: First Lady Women's Advocate, Survivor, Trailblazer and coauthor (with Clint Hill) of the New York Times bestsellers Mrs. Kennedy and Me; Five Days in November; and Five Presidents: My Extraordinary Journey with Eisenhower, Kennedy, Johnson, Nixon, and Ford. She met Clint Hill while writing her first book, The Kennedy Detail: JFK's Secret Service Agents Break Their Silence (with Gerald Blaine). Previously, Lisa was a television news anchor, reporter, and talk-radio host. After September 11, she was a freelance writer in Saudi Arabia and Qatar. In 2021, Lisa McCubbin married coauthor Clint Hill. Visit her at LisaMcCubbin.com.
Praise For…
---
"A warmly sympathetic biography of a spirited woman."
— KIRKUS REVIEWS

"[A] meticulously researched and delightful biography… McCubbin writes with great tact and sensitivity in this insightful and beautifully told look into the life of one of the most public and admired first ladies."
— Publishers Weekly

"This fast-moving book reveals a lively, independent, and indomitable woman who influenced both the women's movement and America's perception of addiction."
— Booklist

"Lisa McCubbin's insightful portrait is admiring without being fawning, candid without a whiff of tabloid salaciousness...The result is a vivid picture of a singularly influential woman."
— Bookpage

"McCubbin's engaging style brings Betty Ford vividly to life, presenting a must-read for fans of presidential biography and history."
— Library Journal