Die Laughing: Killer Jokes for Newly Old Folks (Paperback)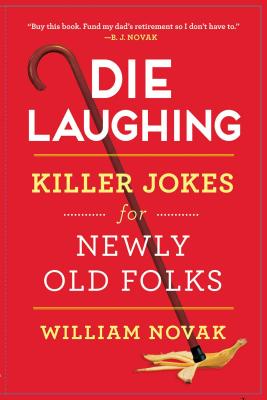 $17.00

Usually Ships in 1-5 Days
Description
---
From the cocreator of the celebrated Big Book of Jewish Humor comes a "funny…geezer-licious" (Jack Handey, author of Deep Thoughts) collection of jokes about growing older that makes fun of memory loss, marriages, medicine, sex, the afterlife, and much more—a perfect gift for almost anyone who was born before you were.

Growing older can be unsettling and surprising. (How on earth did this happen? Where did the years go?) So what better way to deal with this new stage of life than to laugh about your new reality? Die Laughing includes more than enough jokes (not to mention cartoons!) to let that laughter burst out.

Whether it's dealing with doctors, dating in one's seventies, or unexpected bodily changes (not to mention funny noises), some things are easier to face with a smile of recognition. That's why Die Laughing is the perfect gift for your parents, anyone celebrating a significant birthday, or any boomer with a sense of humor whose age begins with a six or higher.
About the Author
---
William Novak, who was born in 1948, has written or coauthored some two dozen books, including the bestselling memoirs of Lee Iacocca, Tip O'Neill, Nancy Reagan, the Mayflower Madam, Oliver North, Magic Johnson, and Tim Russert. He is also the coeditor with Moshe Waldoks of The Big Book of Jewish Humor. He and his wife, Linda, live in the Boston area and have three grown sons, all of whom are writers.