Heaven and Hell: A History of the Afterlife (Paperback)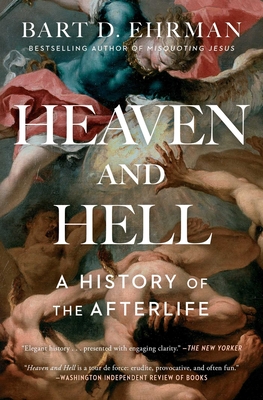 $18.99

Usually Ships in 1-5 Days
Description
---
A New York Times bestselling historian of early Christianity takes on two of the most gripping questions of human existence: where did the ideas of heaven and hell come from and why do they endure?

What happens when we die? A recent Pew Research poll showed that 72% of Americans believe in a literal heaven and 58% believe in a literal hell. Most people who hold these beliefs are Christian and assume they are the age-old teachings of the Bible. But eternal rewards and punishments are found nowhere in the Old Testament and are not what Jesus or his disciples taught.

So where did these ideas come from?

In this "eloquent understanding of how death is viewed through many spiritual traditions" (Publishers Weekly, starred review), Bart Ehrman recounts the long history of the afterlife, ranging from The Epic of Gilgamesh up to the writings of Augustine, focusing especially on the teachings of Jesus and his early followers. He discusses ancient guided tours of heaven and hell, in which a living person observes the sublime blessings of heaven for those who are saved and the horrifying torments of hell for those who are damned. Some of these accounts take the form of near death experiences, the oldest on record, with intriguing similarities to those reported today.

One of Ehrman's startling conclusions is that there never was a single Greek, Jewish, or Christian understanding of the afterlife, but numerous competing views. Moreover, these views did not come from nowhere; they were intimately connected with the social, cultural, and historical worlds out of which they emerged. Only later, in the early Christian centuries, did they develop into notions of eternal bliss or damnation widely accepted today.

In this "elegant history" (The New Yorker), Ehrman helps us reflect on where our ideas of the afterlife come from. With his "richly layered-narrative" (The Boston Globe) he assures us that even if there may be something to hope for when we die, there certainly is nothing to fear.
About the Author
---
Bart D. Ehrman is a leading authority on the New Testament and the history of early Christianity and a distinguished professor of religious studies at the University of North Carolina at Chapel Hill. The author of six New York Times bestsellers, he has written or edited more than thirty books, including Misquoting Jesus, How Jesus Became God, The Triumph of Christianity, and Heaven and Hell. Ehrman has also created nine popular audio and video courses for The Great Courses. His books have been translated into twenty-seven languages, with over two million copies and courses sold.
Praise For…
---
"This elegant history explores the evolution of the concept of the afterlife in Western thought... Well-trod subjects are presented with engaging clarity, and more contentious theories are laid out carefully."
— New Yorker

"The reader is struck by his nimbleness in drawing the thread of this rich-layered narrative, sprinkling larger thematic arcs with anecdotes that honor the non-lineal and multivalent nature of eschatological thought."
— Boston Globe



"A readable book of popular Christianity."
— Kirkus Reviews

"Thanks to COVID-19, mortality—and what awaits those who pass from this life—is at the forefront of many people's minds. Bart D. Ehrman's Heaven and Hell, then, is an inadvertently prescient read."
— Smithsonian Magazine

"Heaven and Hell is a tour de force: erudite, provocative, and often fun."
—Washington Independent Review of Books

"Ehrman's eloquent understanding of how death is viewed through many spiritual traditions is scintillating, fresh, and will appeal to scholars and lay readers alike."
— Publisher's Weekly (STARRED REVIEW)

"Expect delightful, informative examinations of ancient ideas about heaven and hell; ideas that have evolved as human needs and desires have also evolved."
— Library Journal (starred review)

"Ehrman's twin strengths are deep knowledge and an accessible style. This displays both in spades."
— Booklist

"This is a complex history, and it could easily become confusing or, worse, boring. But Ehrman has avoided both pitfalls... Ehrman has the expertise necessary to make this difficult subject comprehensible. Even better, his witty, self-deprecatory style makes Heaven and Hell an enjoyable read. Most importantly, this is an optimistic book."
— Bookpage (STARRED REVIEW)

"In Heaven and Hell, Bart Ehrman provides an informative, engaging, and compelling account of the evolution of conceptions about the afterlife."
—Psychology Today