Blinker, Blinker Little Car (Board book)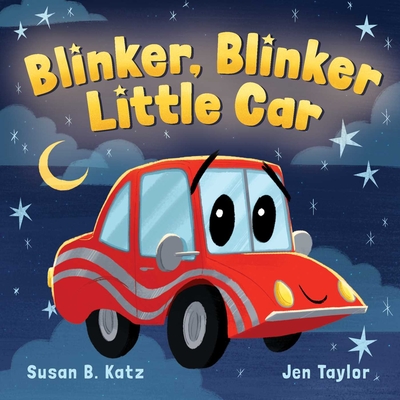 $7.99

Coming Soon - Available for Pre-Order Now
Description
---
Get ready for bed with this charming board book set to the tune of the beloved nursery rhyme, Twinkle, Twinkle, Little Star.

"Kids will fall in love with this adorable red car! That it's cleverly written to the tune of a beloved lullaby will make it even more fun as they sing along with their parents!
A must for any child who loves cars!" -Laura Numeroff, NYT Bestselling Author of "If You Give A Mouse A Cookie" series

"With adorable illustrations and fun rhymes, this board book is the perfect story for any kid's bedtime. I have no doubt that it will soon be a family favorite." - Arianna Huffington, Founder & CEO, Thrive Global

"Taylor's colorful illustrations of downright adorable, anthropomorphic vehicles, which evoke the Pixar Cars franchise, are engaging and complement the text-the image of the little red car tucked in, snoozing away, is especially endearing. Sure to help get the jammie-clad set get ready for bed." - Kirkus Reviews

"The personified vehicles will appeal to Disney's "Cars" fans. A recommended title for collections catering to the vehicle obsessed."-School Library Journal

Blinker, blinker little car, how I love to zoom so far!

After a busy day of play, including a thrilling race in the park, follow an adorable car as it gets ready to sleep in this rhyming bedtime story.
About the Author
---
Susan B. Katz is an award-winning, bestselling, author and illustrator living in California. Susan has over twenty published titles, including The Story of Ruth Bader Ginsburg, and Meditation Station, which won the 2020 International Book Award for Best Mind/Body/Spirit Children's Book. She also earned the Moonbeam Gold Award for Best Picture Book in celebration of My Mama Earth. For the past 25 years, Susan has worked as a bilingual elementary educator, National Board Certified Teacher, and literacy specialist. susankatzbooks.com

Jen Taylor is an artist, designer, illustrator, and MAJOR caffeine enthusiast. She is the illustrator of Golden Girls: Goodnight, Girls; Flash, the Little Fire Engine; Ninja Camp; and the Brave Little Camper Series. Jen lives in New Jersey with her husband and their crazy little corgis, Rocket and Gidget. jentaylor.net
Praise For…
---
"Katz's twist on the popular nursery rhyme invites children to wind down after a busy day as the car is washed and its grill scrubbed-activities that parallel little readers' own bedtime routines. Taylor's colorful illustrations of downright adorable, anthropomorphic vehicles, which evoke the Pixar Cars franchise, are engaging and complement the text-the image of the little red car tucked in, snoozing away, is especially endearing. Sure to help get the jammie-clad set get ready for bed."
— Kirkus Reviews

The little red car at the center of this story/song has a full day ahead. First, it races fellow things-that-go digger and tow truck... a good time is had by all. Post-race, the little car sets off for home, and stops for a night wash before plugging in its battery to recharge for the next day. Told in rhyming verse to the tune of "Twinkle, Twinkle, Little Star," the plot is simple and geared toward the littlest of vehicle fans. Children will need three rounds of the tune to get through everything that happens before bedtime, but they won't mind...and the personified vehicles will appeal to Disney's "Cars" fans. VERDICT A recommended title for collections catering to the vehicle obsessed.
— School Library Journal