Heavenly Essays: 50 Narrative College Application Essays That Worked (Paperback)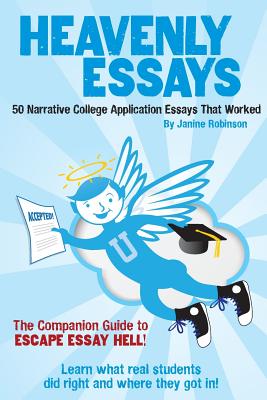 for information about purchasing this book, please contact orders@bookpassage.com
Description
---
These 50 college application essays were written by real students who all got into terrific, competitive schools. They used a narrative (storytelling) style, which is the best way to stand out from the pack.
One of the best ways to learn how to write a winning essay is to read other student's effective essays.
Not only can you glean ideas for your own topics, but also learn the style, format and voice of these slice-of-life essays.
The author, Janine Robinson of the popular essay-writing blog Essay Hell, also included an analysis of each essay to show what worked and why, and teach you narrative writing techniques.
These students were accepted into the best schools, from universities such as Harvard, UCLA, Cornell, Penn, UC Berkeley, Northwestern, University of Colorado, etc., and liberal arts colleges such as Brown, Williams, Smith, Boston College, Loyola Marymount, etc.
All these students shared their unique stories, and in the process revealed their personalities, character, passions and dreams.
You can use this book to learn how to find your stories, voice and message--and land in your top choice school as well.
This essay collection also is the ideal companion for the popular college app essay writing guide, Escape Essay Hell, which lead students step by step to craft standout narrative essays.
Author Janine Robinson also provides private and group tutoring and editing for students all over the world. Learn more at her web site: www.EssayHell.com.
About the Author
---
Janine Robinson is a professional writer, former journalist, editor and teacher from Laguna Beach, California, who coaches college-bound students on their college application essays. Over the past couple decades, she has worked as a staff reporter for top newspapers, including The Miami Herald and The Orange County Register. She also was the editor of several monthly lifestyle magazines in Orange County, California, and worked as an editor for Internet-based education and news sites, including Entrepreneur Media. Janine shares advice and tips on how to write personal narratives on her popular blog, www.EssayHell.com, where she helps students learn to craft stand-out application essays for college or scholarship applications. More than 4 million visitors have found help at the Essay Hell web site through her extensive index of informative posts, online tutorial courses, webinars, other writing guides and private tutoring. When she's not working on the computer in her home office, she loves to hike, surf, go birding, do yoga, tend her veggie garden, hit the flea markets, and play her ukulele. Janine has written four other popular essay writing guides, all available on Amazon: Heavenly Essays (a collection of sample narrative-style essays by real students) Writing Survival Kit (another essay guide packed with writing tools and advice) Essay Hell's 2017-18 Prompts Primer (updated yearly with insider strategies and tips). 50 Most Commonly Asked Questions About College Application Essays (her most recent guide with live links to her web site.) Janine also provides private tutoring and editing services to students all over the world. Learn more at EssayHell.com.