Board Stiff (Xanth Novels #38) (Paperback)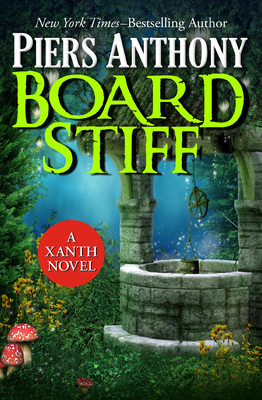 $21.99

Usually Ships in 1-5 Days
Other Books in Series
This is book number 38 in the Xanth Novels series.
Description
---
Kandy may be bored stiff, but a magical mishap makes her problem literal in this hilarious novel in the New York Times-bestselling Xanth series. In the land of Xanth, where everyone has a unique magical talent, adventures come easily to most. But two inhabitants find themselves quite bored . . . until they're inadvertently thrust together on a mission to save Xanth from an anti-pun virus that could turn their world into just another Mundania. Irrelevant Kandy is gorgeous, but thanks to a mental typo and an ornery wishing well, she's now an actual board--with mind control powers. So much for her big plans for adventure, excitement, and romance. And Ease has his own problems, namely that everything is just too easy. He craves a challenge. Fortunately, Humfrey the Good Magician is more than happy to provide them with a quest. The duo--along with a basilisk bodyguard in the form of a young woman and nefarious android Com Pewter--is tasked with saving the puns of Xanth. But who could have released a virus that would destroy Xanth's essence, and can Kandy and Ease figure out how to stop it in time?

About the Author
---
Piers Anthony has written dozens of bestselling science fiction and fantasy novels. Perhaps best known for his long-running Xanth series, many of which are New York Times bestsellers, he has also had great success with the Incarnations of Immortality series and the Cluster series, as well as Bio of a Space Tyrant and others. Much more information about Piers Anthony can be found at www.HiPiers.com.