A Shimmer of Red (An Odessa Jones Mystery #3) (Paperback)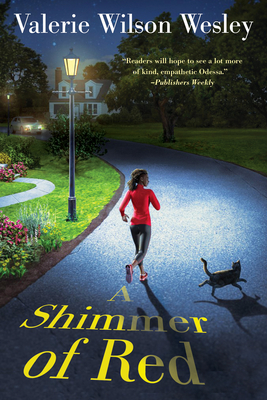 $16.95

Coming Soon - Available for Pre-Order Now
Other Books in Series
This is book number 3 in the An Odessa Jones Mystery series.
Description
---
From the award-winning creator of Newark private eye Tamara Hayle, the third installment in a spell-binding cozy mystery series featuring a multicultural cast and starring Odessa Jones, a recent widow with a brand new catering business, a full-time real estate gig, and the gift of second sight. When a young realtor is suddenly killed in a hit-and-run, Odessa must wade through a legion of lies to find the hidden killer…with a little help from her spirited aunt, loyal co-workers, mischievous cat Juniper and her own psychic skills.

With pandemic-fearing city dwellers fleeing to the New Jersey suburbs, Risko Realty—and Odessa Jones—are having their best year ever. Finally on solid financial footing, Odessa is debt-free and looking forward to the future. But she doesn't need second sight to sense her new young co-worker, Anna Lee, is on edge--and straight-up terrified--in spite of her hot sales record and sunny, outgoing attitude. And when Anna is killed in a hit-and-run, Odessa sees immediately that it was no accident . . .

It's soon clear that Anna was being stalked. But even with the help of family, friends—and Odessa's feisty cat, Juniper—Odessa is coming up with more questions than clues. Why was Anna avoiding influential real-estate mogul Emily Delbarton? Why is Delbarton's decidedly creepy brother so fixated on Anna? Did Anna make enemies through her previous job at the town's exclusive gentlemen's club? And can Odessa rule out her own ex-fiancé—who's back in her life with an astounding connection to Anna—and wanting a second chance? Finding the answers will come at an increasingly deadly cost—one Odessa's talents must somehow trap a killer to repay . . .

"There's also something oddly comforting about a Black woman in fiction who isn't weighed down by societal pathology and who can appreciate a good glass of Merlot and reruns of "Downton Abbey" as much as the next woman. In between heavier mystery fare, this unicorn of a Black cozy is a welcome palate cleanser." —The Los Angeles Times on A Glimmer of Death
About the Author
---
Valerie Wilson Wesley is the award-winning author of the Blackboard bestselling Tamara Hayle Mystery Series and the Odessa Jones Mysteries, as well as adult fiction, children's books, and paranormal romance (under the name Savanna Welles). She is the recipient of numerous honors, including the Excellence in Adult Fiction Award from the Black Caucus of the American Library Association, the National Association of Black Journalists Griot Award, the Amigirls Book Club Author of the Year and the Literary Beacon Award from the national Go On Girls Book Club. A former executive editor of Essence® Magazine and Sisters in Crime board member, she is currently an artist-in-residence at the Cicely Tyson School of Performing Arts in East Orange, New Jersey. Wesley is a graduate of Howard University and holds master's degrees from the Bank Street College of Education and the Columbia Graduate School of Journalism. She is married to noted screenwriter and playwright Richard Wesley and has two adult daughters. She can be found online at ValerieWilsonWesley.com.
Praise For…
---
Praise for the Odessa Jones Mysteries:
   "It's been a treat to watch Wesley at work on a new series, cozier and more paranormal-tinged, which began last year with A Glimmer of Death and continues now with A Fatal Glow, featuring the sleuthing adventures of the Realtor-turned-caterer Odessa Jones."—The New York Times Book Review on A Fatal Glow
 
"There's crispness in Wesley's plotting and sparkle in the supporting characters, notably Dessa's feisty, elderly aunts – both possessed of extrasensory gifts—and a possible love interest in ex-cop Lennox Royal. There's also something oddly comforting about a Black woman in fiction who isn't weighed down by societal pathology and who can appreciate a good glass of Merlot and
reruns of "Downton Abbey" as much as the next woman. In between heavier mystery fare, this unicorn of a Black cozy is a welcome palate cleanser." —The Los Angeles Times on A Glimmer of Death

"Fans of cozy mysteries will love this novel about caterer and psychic Dessa Jones." —Marie Claire on A Glimmer of Death

"Danger, intrigue and adventure ensue in this fun whodunit." —Woman's World on A Fatal Glow
  
"Dessa is a complex and relatable adult, not prone to recklessly haring off in order to advance the plot, and an absolute breath of fresh air on the contemporary cozy scene."– Criminal Element on A Fatal Glow
 
"The creator of Newark private eye Tamara Hayle dials back the wisecracks and bumps up the paranormal hints to launch a new series featuring a widowed African American realtor whose workplace is a hot mess." —Kirkus Reviews on A Glimmer of Death
  
"Widow Odessa Jones, the psychically gifted narrator of this strong series launch from Wesley, can see glimmers, auralike colors that correspond to a person's emotional state…Wesley perfectly captures her protagonist's emotions, including the lingering melancholy she feels for her late husband…Readers will hope to see a lot more of kind, empathetic Odessa." —Publishers Weekly on A Glimmer of Death
  
 "A delightful new mystery…Bring on more Dessa Jones, an unusual detective with a winning personality." —Criminal Element on A Glimmer of Death