The Boxing Baroness: A Witty Regency Historical Romance (Wicked Women of Whitechapel #1) (Paperback)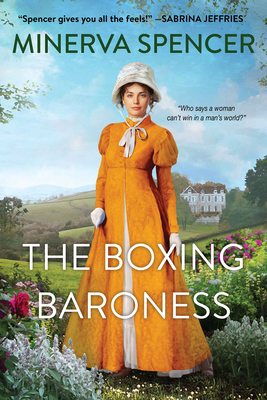 $16.95

Usually Ships in 1-5 Days
Other Books in Series
This is book number 1 in the Wicked Women of Whitechapel series.
Description
---
Inspired by true history and perfect for fans of Bridgerton, the acclaimed author sparkles with this brilliantly imagined story of romance between an undercover spy and an educated and strong woman in the first of a witty, Regency-set, feminist series exploring the role of women in a rigidly patriarchal society. Readers will delight in the rapier sharp wit, sexual fireworks, and thought-provoking entertainment of The Boxing Baroness.

"Swooningly romantic, sizzling sensual…superbly realized." – Booklist STARRED REVIEW

A Library Journal Best Book of 2022
A Publishers Marketplace Buzz Books Romance Selection

Of questionable birth, but made for greatness, the Regency-era heroines in Minerva Spencer's thrilling new historical romance series possess both clever minds and unusual skills that enable them to go head-to-head—and heart to heart—with the best of men, including those of the ton . . .

Magnetic and educated, Marianne Simpson has the manner of a lady and the looks of a lover, not a fighter. Neither of which explains her occupation as a boxer in her uncle's circus, Farnham's Fantastical Female Fayre. Nonetheless, when St. John Powell, the exquisitely handsome Duke of Staunton, begins turning up at her shows, she finds herself dangerously distracted by the powerful peer's mysterious presence. With her safety at stake, Marianne's days in the ring are numbered. But how long can she fight her attraction to the man the ton calls Lord Flawless?

St. John Powell doesn't just want Marianne Simpson, he needs her … to rescue his brother, who is being held for ransom by a treasonous English baron—the man all of Britain knows as the Rake of Rakes. No matter how little Marianne wants to see her duplicitous ex-lover, the man responsible for the humiliating nickname the Boxing Baroness, St. John must convince her. Even if it means climbing into the ring with the beautiful boxer and taking everything she's got . . .

"An outstanding romance based in part on a real historical figure… This is sure to wow." – Publishers Weekly STARRED REVIEW
About the Author
---
Minerva Spencer is the multiple award-winning author of Regency set historical romance novels, including the highly acclaimed Rebels of the Ton, Wicked Women of Whitechapel, and Outcasts series. Born in Saskatoon, Saskatchewan, she lived in Canada, the US, Europe, Africa, and Mexico before moving to New Mexico, where she resides now with her husband and dozens of rescue animals. She was previously a college history professor, a criminal prosecutor, a bartender, and owner of a bed and breakfast. Visit Minerva online at MinervaSpencer.com.
Praise For…
---
Praise for The Boxing Baroness

"With the launch of her swooningly romantic, sizzling sensual new Regency-set Wild Women of Whitechapel series, Spencer delivers her own one-two knockout punch with a superbly realized cast of characters that includes an intriguingly different yet historically credible heroine and an exhilarating plot that not only delves into the fascinating world of female pugilism—Marianne is based on a historical figure, Mary Anne Pearce—but also deftly illuminates the dangerous state of affairs in France after Napoleon escaped from Elba." —Booklist STARRED REVIEW

"Fans of historical romances with strong female characters in non-traditional roles and the men who aren't afraid to love them won't be disappointed by this series starter." —Library Journal STARRED REVIEW

"Spencer (Notorious) launches her Wicked Women of Whitechapel Regency series with an outstanding romance based in part on a real historical figure. . . This is sure to wow!"
—Publishers Weekly STARRED REVIEW

Praise for Minerva Spencer

"With some steamy scenes that Bridgerton fans will warmly welcome, the two begin to fall for each other—unless Celia's dark secret comes between them." —Screenrant on Infamous

"The exciting drama of their road trip only facilitates their individual growth, and returning fans will be especially gratified to see the villainous Godric in a new light. This daring, emotional page-turner is a delight." —Publishers Weekly on Outrageous

"Spencer is once again perfectly on point with her fetching brand of historical romance… a plot rich in action and danger and spiced with just the right amount of tart wit." 
—Booklist on Outrageous

"Forgiveness forms the heart of this scandalous, sensual tale, and the lively house party setting adds to the thrills. Readers will be delighted." —Publishers Weekly on Infamous

"Infamous is exactly the kind of story I love to curl up with—unforgettable characters, big secrets and bigger reveals, and plenty of heat with two couples to root for. I adored every page." —USA Today bestselling author Darcy Burke on Infamous 
 
"Seduction, scandal and a sexy scientist hero, all wrapped up in Minerva Spencer's trademark wit! INFAMOUS is the quirky Regency romp romance readers have been waiting for. Get ready to swoon" —Anna Bradley, author of The Swooning Virgins Society series on Infamous

"Spencer is an absolute wizard when it comes to creating riveting, sensual, and intelligent romances. INFAMOUS features not one, but two smart and spirited heroines who challenge the confining gender roles of the day, forging their own futures and happily ever afters. Romance readers need this splendid book—pronto!" —USA Today bestselling author, Vanessa Kelly on Infamous

"Why should bad boys have all the fun? In this sizzling Regency, bad girls deserve love too! Snuggle up with this steamy romance and prepare to laugh, cry, and curse the villain. Relatable characters, sharp wit, and a fast-paced story are Spencer's trademarks, and you'll find them here in spades. You won't want to put this book down!" —National Bestselling Author Shana Galen on Infamous

"Five Stars for Infamous! Spencer has a gift for creating stories that keep you riveted from the first page to the last with complex characters. A sexy, witty, and thoroughly charming read." 
—Renee Ann Miller USA Today Bestselling Author on Infamous

"An incredibly emotional story of redemption and finding a new path when past sins come back to haunt, Infamous is a tale filled with angst, regrets, attraction, possibilities and triumph…and love. I highly recommend it to anyone who loves an 'old school', lush historical romance. Minerva Spencer never disappoints!" —USA Today bestselling author Terri Brisbin on Infamous

"Infamous is Minerva Spencer at her best; she takes an 'unlikeable heroine' and slowly chips away at her many layers as the lushly-written story progresses, until the reader can't help but cheer for her. Celia and Richard's journey to an HEA is immensely satisfying because it is so hard won." 
—Liana De la Rosa, author of the Once Upon a Scandal series on Infamous

"Minerva Spencer has knocked it out of the park again with her latest, Infamous. Weaving a spellbinding tale of romance and redemption, that will hook you from the first page and won't let you go until the end, Infamous is one not to be missed! With characters so intriguingly flawed, you can't help but be drawn to them, Minerva creates a story that will stay with you well after you finish the last page. Spencer is a romance author superstar in the making!" —Maddison Michaels, Ruby Award Winning Author on Infamous