Beats and Blow (The Crescent Crew Series #5) (Paperback)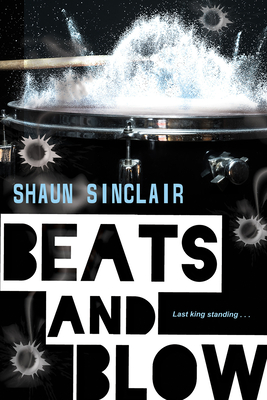 $16.95

Usually Ships in 1-5 Days
Other Books in Series
This is book number 5 in the The Crescent Crew Series series.
Description
---
With an exceptional voice that combines the explosive drama of Kiki Swinson and the lyrical writing style of Devon Scott, Shaun Sinclair – Army veteran and originator of the Gangsterotica subgenre - follows Dirty Music with the fourth Crescent Crew installment. In this crew, friendships are rocked by successful music careers, brutal gang assassinations and love lost, all while offering a unique glimpse into the rise of hip-hop in the South.

His empire is worth a billion thanks to the drug-fueled wealth of his infamous Dirty South crew. But with unanticipated enemies gathering for a final devastating hit, will there be anyone left to rule? Even near-fatal business and body blows can't keep the Crescent Crew down for long. From lockdown, their founder and leader Qwess negotiates an unlimited supply of product that's tripling the profits lost when the Feds swept in. But his treacherous second-in-command, Bone, has a secret agenda at play that's sparking a brutal internal war. And when Qwess's old rival, New York mogul Diamond, comes gunning to finish him and his kingdom for good, betrayal and payback will win the day—and could leave nothing and no one standing . . .
About the Author
---
Shaun Sinclair is the creator of Gangsterotica, a sub-genre that seamlessly blends crime and action with erotica. A native of Atlantic Beach, South Carolina, the former independent music performer and Army veteran worked as a law clerk for six years and now uses his experiences to make his stories pop with authenticity. He is the founder and owner of Pen 2 Pen Publishing Firm and a contributor to the legendary Don Diva Magazine, where he mixes social commentary with his love for hip-hop culture. A member of the Soaring as Eagles community outreach ministry, Sinclair is a passionate advocate for social change with the unique ability to effectively address diverse audiences, speaking truth to power. Visit him online at ShaunSinclair.com.

Praise For…
---
Praise for Shaun Sinclair's Crescent Crew series

"Shaun Sinclair taps into the new code and DNA of black and urban life in America, where there's one foot in the rap game and another foot still out in the mean and hungry streets of capitalism. And this ongoing pathology of hard choices is more than just another book, it's real life. It's been that way for the past 20 years now. As Brooklyn-born and raised mogul Jay-Z once put it so geniusly back in 1995, "All us blacks got is sports and entertainment...until we even. And that even will never happen out on the streets, where we only learn to annihilate each other over so-called drug territory. Shaun Sinclair reminds us once again of what life in the streets is sadly still up against, where kids learn to rap, trap or die'". —Omar Tyree, New York Times bestselling author and creator of The American Disease series on Street Rap

"Shaun Sinclair opens our minds and reading taste buds, with the gritty reality of how one bad choice can cause an eternity of hell. Grab a cool drink, a warm seat, and snuggle up with the brilliant story telling mind of this author. As he delivers a bone chilling tale that will keep the readers longing for more, while revaluating every choice they make." —NeNe Capri, author of The G Street Chronicles on Street Rap

"Suspenseful and twisting, Sinclair's engrossing story of two friends of opposite paths through life may appeal to fans of Eric Jerome Dickey. Watch for future titles from Sinclair in the Crescent Crew series." —Booklist on Street Rap

"The story reveals loyalty among thieves, making it a solid selection for libraries with enthusiastic urban fiction readers." —Library Journal on Street Rap

"Sinclair has created another heart-pounding story line, set to the unrelenting beat of life in the urban South. Each suspenseful twist in this deeply engrossing story will keep readers on the edge of their seats clamoring for more. Fans of Kwame Teague and Jihad will be sure to enjoy Sinclair's latest." —Booklist on King Reece