The Wax Pack: On the Open Road in Search of Baseball's Afterlife (Hardcover)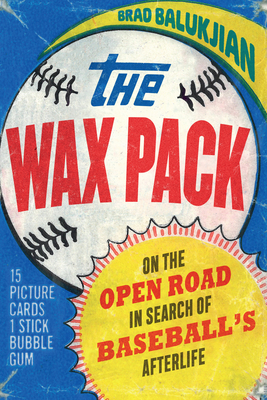 Description
---
A Los Angeles Times Best Seller
A 2020 NPR Best Book of the Year

Is there life after baseball? Starting from this simple question, The Wax Pack ends up with something much bigger and unexpected—a meditation on the loss of innocence and the gift of impermanence, for both Brad Balukjian and the former ballplayers he tracked down. To get a truly random sample of players, Balukjian followed this wildly absurd but fun-as-hell premise: he took a single pack of baseball cards from 1986 (the first year he collected cards), opened it, chewed the nearly thirty-year-old gum inside, gagged, and then embarked on a quest to find all the players in the pack.

On Balukjian's trip in the summer of 2015, he spanned 11,341 miles through thirty states in forty-eight days. Actively engaging with his subjects, he took a hitting lesson from Rance Mulliniks, watched kung fu movies with Garry Templeton, and went to the zoo with Don Carman. In the process of finding all the players but one, he discovered an astonishing range of experiences and untold stories in their post-baseball lives. While crisscrossing the country, Balukjian retraced his own past, reconnecting with lost loves and coming to terms with his lifelong battle with obsessive-compulsive disorder.

Alternately elegiac and uplifting, The Wax Pack is part baseball nostalgia, part road trip travelogue, and all heart, a reminder that greatness is not found in the stats on the backs of baseball cards but in the personal stories of the men on the front of them.



              
 
About the Author
---
Brad Balukjian is an entomologist and is faculty in the Natural History and Sustainability Program at Merritt College. He is also a freelance writer who has published in Rolling Stone, Slate, National Geographic, and other publications. He lives in Oakland, California, with his VCR.
 
 
Praise For…
---
"A wonderful journey that opens into an exploration of sports, nostalgia, American culture, and memory,
The Wax Pack
will surprise and engage you. It's a delight to read and a tribute to the power of curiosity."—Susan Orlean, author of
The Orchid Thief
and
The Library Book
"What if a pack of baseball cards could come to life? It sounds like a Spielberg movie plot, except it happened. It happened because Brad Balukjian made it happen, in real life, with the most eclectic cast of baseball characters ever assembled. And the result is one of the most fun, honest, funny, human, and uniquely creative baseball books of the year. I'll admit it. I loved
The Wax Pack
!"—Jayson Stark, senior baseball writer for
The Athletic 
"
The Wax Pack
is one of the most interesting and pleasing baseball-themed books I have read in quite some time. An original idea, brought to fruition with graceful prose, a sense of humor, empathy, and insight."—Bob Costas  
"Baseball cards were a wonderful and memorable part of my childhood. Balukjian brought a random pack of cards to life. Such a unique way to tell a fascinating story."—Tim Kurkjian
"Poignant and powerful. . . . Balukjian covers more than ten thousand miles to track down the stories of fourteen men from a single pack of 1986 Topps baseball cards, learning a lot about their lives—and his own. Hop in the backseat and join him for the journey."—Tyler Kepner, national baseball writer for the
New York Times
and best-selling author of
K: A History of Baseball in Ten Pitches
"As pleasing as the pink slab of bubble gum that, long ago, came with baseball cards inside five cent packets, this slender volume gives fresh flavor to the familiar phrase 'inside baseball.'"—George F. Will
"What a weird, quirky, fun read. There have been 50,000 books written on Major League Baseball, but Brad Balukjian's
The Wax Pack
is a uniquely romantic love letter to a game, a time period, and its random soldiers. Well done."—Jeff Pearlman, author of
Football for a Buck
"Brad Balukjian's
Wax Pack
puts you right inside the packaging. You come away feeling the heart of what it means to be a fan of eighties baseball. From his in-depth account of the history of the Topps card factory to seizing the moment to ask the tough questions of these players, he turns the happenstance of fifteen player cards randomly placed in one pack into a family. Your family."—Doug Glanville, MLB analyst for ESPN  
"
The Wax Pack
is the perfect synthesis of what makes baseball (and baseball cards) compelling, combining the thrill of discovery, the reassurance of shared memory, and poignant metaphors for life. Balukjian's cross-country, cardboard-based bildungsroman reminds us that baseball's best stories are sometimes told by and about players who've long since left the league."—Ben Lindbergh, best-selling author of
The MVP Machine
and
The Only Rule Is It Has to Work
"Brad Balukjian's book is for all those little kids with cardboard heroes who turned into big kids and started wondering, 'Hey, what if there's more to life than just the cardboard?' Turns out, there is."—Rob Neyer, author of
Power Ball: Anatomy of a Modern Baseball Game
"A journey of self-discovery by way of a pack of 1986 baseball cards. In Brad's emotional quest, he not only finds answers but shares a snapshot of ballplayers who, like him, are trying to make it through life's many twists and turns."—Shane Rawley, former MLB pitcher
"Brad Balukjian's
The Wax Pack
swiftly and joyfully unfolds like a baseball-loving version of
Almost Famous
. Bursting with life, laughter, and heartbreak, it's an absolutely essential work of baseball literature; a rollicking page-turner; and a deep, rewarding search for wisdom."—Josh Wilker, author of 
Cardboard Gods
"Every pack of baseball cards is like a birthday gift. It's carefully wrapped, and, though what's inside is a mystery, you know it's going to be great. Same with
The Wax Pack
, the book. Until you open it, you have no idea how good the contents are. They're good, very good. I've opened thousands and thousands of packs in my lifetime, but this is one of my favorites."—Jeff Katz, author of
Split Season 1981: Fernandomania, the Bronx Zoo, and the Strike that Saved Baseball
"With
The Wax Pack
 Brad Balukjian takes the simplest of ideas—opening an old pack of baseball cards—and twists it into knots, wringing every ounce of goodness from a familiar activity. With clarity of purpose and depth of prose he tells an endearing tale, deftly melding fan with player to provide a joyous, entertaining look at a sport he clearly loves."—Jason Turbow, author of
They Bled Blue
and
The Baseball Codes 
"Collecting baseball cards is something of a childhood rite of passage, and
The Wax Pack
is an awesome look into something many of us would never have dreamed of doing—chasing down our childhood heroes. . . . Brad tells their stories unlike anyone has ever done before—from the unique perspective of author and fan."—Matt Boyd, MLB pitcher, Detroit Tigers
"
The Wax Pack
is a fun read for card collectors, fans of '80s baseball, or anyone who just wants to know what Rance Mulliniks is up to. I want to buy an old pack of cards and do what Brad Balukjian did!"—Eric Stangel, Emmy Award–winning writer and producer for the
Late Show with David Letterman
"Brad Balukjian's concept for his first book—tear open a pack of 1986 Topps baseball cards, chomp the ancient pink rectangle of gum-ish substance, then hit the road to unwrap the post-baseball lives of the players found in the pack—is so obviously compelling that it is the envy of any wannabe-author sportswriter who has never been able to summon the right idea."—Chad Finn, 
Boston Globe
"Those baseball fans who had in their possession baseball cards at one time or another will certainly want to read this book, but one does not have to be a baseball fan to thoroughly enjoy this book that is not only thought-provoking but also emotion-provoking as the reader will fell a large range of emotions while reading it."—
Guy Who Reviews Sports Books
"
The Wax Pack
is a nice treat for baseball fans who collected cards as kids. Balukjian has done what most collectors can only dream about—making a pack of baseball cards come alive. It's a great story, and one that comes with some sobering lessons."—Bob D'Angelo, 
Sport in American History
"Imagine buying a pack of baseball cards from the mid-1980s. Each pack has 14 random cards, many of which feature players you do not know. In this fascinating book, Balukjian (Merritt Coll., CA) describes how he tracked down every single player in the pack, an adventure that led him to travel thousands of miles through 30 U.S. states. . . . While not everyone featured here is a baseball superstar, all of the stories offer captivating tidbits for fans of the sport."—Gus Palas, 
Library Journal
"15 Huzzahs and a plug of chaw for this Diamond Game literary nonfiction masterpiece. . . . Absolutely a brilliant delight and must-have book, so go coast to coast with Balukjian as he tracks down the wax pack."—John Vorperian, Southern New England Chapter SABR
"It's not just how Balukjian watches kung fu movies with Templeton, plays Cards Against Humanity with Cocanower or goes bowling and lifts weights with Ready. His inquisitive nature, honesty and self-awareness guides us through a mix of memoir, travel and human connection. These cardboard gods can be even more heroic now."—Tom Hoffarth, Sports Business Journal
"Good dude, great book."—95.7 the Game
"
The Wax Pack
is a journey worth waiting for, worth taking. Enjoy the ride."—Andy Esposito, 
NY Sports Day
"
The Wax Pack
is a nice example of what a baseball fan can do with a dream, and carving out time from real world requirements, to go back to their future during a time when cards cost less than two quarters."—Don Laible, 
Observer-Dispatch
"
The Wax Pack
is certainly a fantastic baseball book worthy of your time."—Chris D. Davies, 
SB Nation
"
The Wax Pack
is an enjoyable read by an author who shares a love of baseball and baseball cards. An author who appreciates that baseball cards provide threads to a past that many of us still cherish."—Drew Gallagher, 
Free Lance-Star
"It's somewhat appropriate that the thoughtful
Wax Pack
arrived in this season of reflection. During these difficult days, it should be in your line-up."—Jon Hart, B
ook & Film Globe
"
The Wax Pack
is ultimately a very promising debut by Brad Balukjian. If he ever decides to take another break from teaching in order to write a follow-up, it will certainly be worth checking out—one that, if this work is any indication, will be overflowing with ingenuity and passion."—Micah Wimmer, 
Fan Sided
"It took Brad 48 days to travel 11,341 miles across 30 states in the summer of 2015 to gather the material for the book. But it was worth every second of it."—5
00 Level Fan
"From the beginning, Balukjian lays out his engaging story with details of the excitement, disappointment, victories, and dead ends of searching for each player. He stirs the childhood nostalgia for every kid who has ever opened a new pack of baseball cards. He has a vision for an adventure that would bring to life the fourteen players in the pack as he seeks to learn about their life after baseball."—Mark Jent, 
NINE: A Journal of Baseball History and Culture
"There is no hagiography in this book, no attempt to make these ex-players something they are not. What we get, therefore, is a book that is bracingly honest in its portrayal of human failure but equally powerful in its account of the possibility of redemption.
The Wax Pack
is one of the most enjoyable and moving pieces of baseball writing I have read in recent years. It may even come to be recognized as a classic of the genre."—Gregory Hillis, 
America Magazine