She Caused a Riot: 100 Unknown Women Who Built Cities, Sparked Revolutions, and Massively Crushed It (Paperback)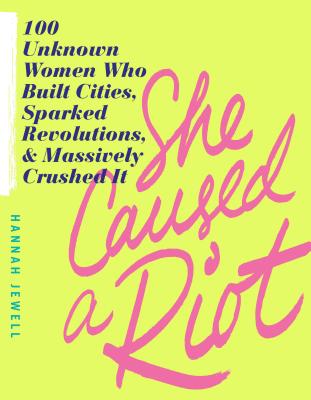 $22.99

Usually Ships in 1-5 Days
Description
---
Meet the bold women history has tried to forget...until now!
Women's stories are often written as if they spent their entire time on Earth casting woeful but beautiful glances towards the horizon and sighing into the bitter wind at the thought of any conflict.
Well, that's not how it f**king happened. When you hear about a woman who was 100% pure and good, you're probably missing the best chapters in her life's story. Maybe she slept around. Maybe she stole. Maybe she crashed planes. Maybe she got shot, or maybe she shot a bad guy (who probably had it coming). Maybe she caused a scandal. Maybe she caused a riot . . .
From badass writer Hannah Jewell, She Caused a Riot is an empowering, no-holds-barred look into the epic adventures and dangerous exploits of 100 inspiring women who were too brave, too brilliant, too unconventional, too political, too poor, not ladylike enough and not white enough to be recognized by their shitty contemporaries. Daring and gift-worthy, this is a bold tribute to the powerful women who came before us.
About the Author
---
Hannah Jewell is an on camera host for the video team at The Washington Post. She was previously a writer at BuzzFeed UK, where she became known for her humor writing about gender and her satire of UK and US politics, and for presenting BuzzFeed's live 2016 election night show. She was born in London, but her parents whisked her away to California when she was a baby, and so she grew up frolicking on beaches and through redwood forests. She earned a degree from UC Berkeley in Middle Eastern Studies, taking a year out to study and work in Beirut. She had a great time in Lebanon but now is unfortunately banned from that country. She then returned to the UK in 2013 for an MPhil in International Relations and Politics at Cambridge, which was mostly fine. Her career highlight so far was breaking the story of the "Milifandom" for BuzzFeed, a strange phenomenon when teen girls across Britain went wild for the leader of the Labour Party Ed Miliband in the 2015 general election. Now she lives in Washington and wishes she had cats.
Praise For…
---
"Jewell narrates the lives of these women with a righteous comic and conversational tone, and her enthusiasm is contagious...galvanizing and laugh-out-loud funny, this book is a riot on par with the women it presents. " — Booklist

"Laugh-out-loud funny and inspiring, this book introduces you to these women like they're your besties. Read it to pick a glorious new role model, collect awesome cocktail party banter, and feel more connected to strong women all across time." — Krista Suh, creator of the Pussyhat Project and author of DIY Rules for a WTF World

"A fun, hilarious read that will make a fantastic addition to your feminist library and historical knowledge." — Ann Shen, author of Bad Girls Throughout History

"It's a history book but not a textbook, unless one's history professors are totally rad. It's funny and presented as a salve to the current injustices of the world...It provides hope that women have survived worse, and will not only roll with the punches but nevertheless persist." — Hers Magazine