Dinosaurs with Jobs: A Coloring Book Celebrating Our Old-School Coworkers (Paperback)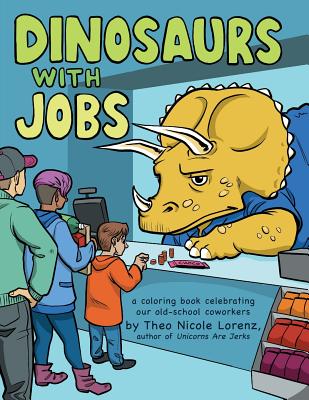 for information about purchasing this book, please contact orders@bookpassage.com
Description
---
Dinosaurs work hard for a living, and their efforts deserve to be recognized.
This hilarious coloring book features 20 examples of the dinosaur driving instructors, dog groomers, astronauts, tech support specialists, and more whose work makes our world a better place.
Theo Nicole's Lorenz's humorous, offbeat coloring books are perfect for anyone looking to break outside the world of patterns and mandalas, and add some laughter along the way!
About the Author
---
Theo Nicole Lorenz was born in 1985, weighing only six pounds and yelling a lot. Now many pounds larger and holding an MFA in writing from Hamline University, Theo still yells a lot, though mostly at the internet. Theo makes coloring books and sometimes comics in St. Paul, Minnesota. Visit Theo at www.nicolelorenz.com and on Twitter @TheoNicole.